Universal's Jason Bourne shoots to series-high opening with strong confirmed $10m (£7.6m) bow.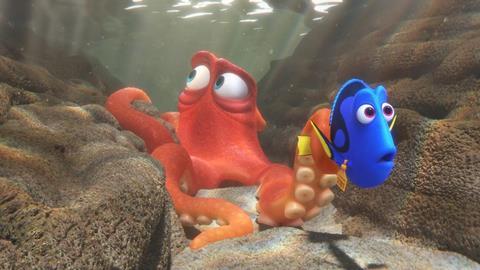 UK TOP FIVE
| Ranking | Film/Distributor | Weekend gross | Running total |
| --- | --- | --- | --- |
| 1 | Finding Dory (Disney) | $10.7m (£8.1m) | $10.7m (£8.1m) |
| 2 | Jason Bourne (Universal) | $10m (£7.59m) | $10m (£7.59m) |
| 3 | The BFG (eOne) | $4.4m (£3.36m) | $19.1m (£14.47m) |
| 4 | Star Trek Beyond (Paramount) | $3.1m (£2.31m) | $13.5m (£10.2m) |
| 5 | The Secret Life Of Pets (Universal) | $961,000 (£728,900) | $40.3m (£30.54m) |
(Note - Dollar conversions are based on today's rates)
DISNEY
In the battle of the amnesiac leads, Finding Dory has beaten Jason Bourne to the top of the UK box office.
Disney/Pixar's latest charge swam to a terrific $10.7m (£8.1m) debut from its 580 sites for a strong $18,457 (£13,966) site average. Overall, it's the second-biggest animated debut this year, behind The Secret Life Of Pets, but the biggest three-day animated tally.
In terms of Pixar outings in the UK, it ranks as the fourth-biggest overall. However, based solely on Fri-Sun, it marks the second-biggest opening behind only Toy Story 3's $15.2m (£11.49m).
Based on Fri-Sun tallies, Finding Dory ranks as the seventh-biggest opening Fri-Sun of all time for animated films.
With the school holidays in full swing, expect Finding Dory to keep on swimming strongly throughout the coming weeks. From a $9.8m (£7.38m) opening, Finding Nemo went on to take $49.6m (£37.5m) in the UK.
UNIVERSAL
Jason Bourne might not have taken the top spot, but it still posted the biggest opening of the series to date.
Universal's action sequel shot to a strong confirmed $10m (£7.6m) from its 563 sites, including $3m (£2.29m) in previews, to surpass The Bourne Ultimatum's $8.6m (£6.55m) from 458 sites, including $1.64m (£1.24m) in previews.
In terms of Fri-Sun tallies, Jason Bourne's $6.98m (£5.31m) is neck-and-neck with Ultimatum's $7m (£5.31m) as the best Fri-Sun haul of the series.
The Bourne Ultimatum is also currently the highest-grossing outing of the series with $31.7m (£24m). Jason Bourne will have to fight off stiff competition from Suicide Squad this coming Friday [Aug 5] to surpass that.
Also for Universal, The Secret Life Of Pets has become the fifth film this year to hit £30m.
Illumination Entertainment's animation fell a respectable 40% in the face of Finding Dory's arrival, hopping to an extra $961,000 (£728,900) for a superb $40.3m (£30.54m) after six weeks in play.
Central Intelligence stands at $11m (£8.32m) after five weeks in play.
EONE
The BFG fell only 37% from its chart-topping opening with a non-final $4.4m (£3.36m) second weekend from its 675 sites.
eOne's Roald Dahl adaptation enjoyed a giant first Mon-Thurs as it amassed almost $7.9m (£6m), with its second weekend lifting it to a healthy $19.1m (£14.47m) after ten days in play.
The BFG will soon overtake the likes of The Adventures Of Tintin: The Secret Of The Unicorn ($21.5m/£16.3m) and War Horse ($24.6m/£18.63m) in terms of Steven Spielberg outings in the UK.
Also for eOne, Now You See Me 2 has now conjured up $8m (£6.06m) following a $139,000 (£105,153) fourth weekend.
PARAMOUNT
Star Trek Beyond fell around 50% on its way to a non-final $3.1m (£2.31m) second weekend.
Paramount's latest mission for the USS Enterprise crew stands at $13.5m (£10.2m) after ten days in play, and can take comfort in its opening Mon-Thurs gross of more than $4m (£3m).
It will require more healthy midweek results to have any chance of catching Star Trek's $28.3m (£21.4m) result. That film stood at $16m (£12.1m) at the same stage and was released in May, not during the summer holidays.
SONY
Falling 55% in its third weekend, Sony's Ghostbusters captured $791,000 (£599,497) for $12m (£9.09m) after 21 days in play.
Paul Feig's much-talked about reboot should become his second-best UK performer by the end of its run, currently Spy's $13.2m (£10m) result.
Also for Sony, big-budget Chinese fantasy League Of Gods posted an $11,000 (£8,349) UK bow from its 14 sites.
WARNER BROS
In its fourth week, Warner Bros' The Legend Of Tarzan swung to an extra $272,000 (£206,000) for a solid $11.7m (£8.82m) to date.
FOX
Falling a hefty 68% in its third week, Fox's Ice Age: Collision Course rolled to a non-final $247,000 (£187,548) for $8m (£6.06m). It will end its run as the lowest-grossing outing of the series.
Also for Fox, Absolutely Fabulous: The Movie took an additional $223,000 ($169,069) for an excellent $20.2m (£15.29m) to date.
CURZON ARTIFICIAL EYE
From its 23 sites through Curzon Artificial Eye, Thomas Vinterberg's The Commune posted a UK debut of $33,000 (£25,028).
UPCOMING RELEASES
This week sees a saturation release for Warner Bros' Suicide Squad, while Soda Pictures' Up For Love receives a wide release.
ICO/Studiocanal's re-release of Sid And Nancy and Eureka Entertainment's Sweet Bean are among the films receiving a limited release.