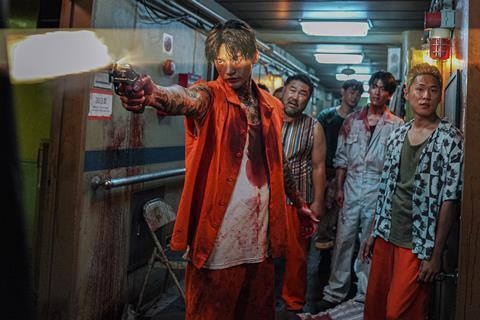 South Korean sales agency Finecut is launching international sales on Project Wolf Hunting at the Asian Contents & Film Market (ACFM). The film is directed by Kim Hongsun, known for stylised genre films such as Metamorphosis (2019), The Chase (2017) and The Con Artist (2014).
His new film is about a cargo ship that embarks on a special mission known as 'Project Wolf Hunting' to transport the most atrocious convicts from Manila to Busan. When prisoners start a riot onboard, the 1,630-mile journey quickly devolves into a floating, self-contained hell that awakens an unknown sinister force to break loose.
The film stars Seo In-guk (Pipeline) and Jang Dong-yoon (TV series Search) with veteran actors Choi Guyhwa and Sung Dong-il.
Produced by Contents G and Cheum Film, which previously produced Metamorphosis and The Phone, Project Wolf Hunting is currently shooting in Korea and the Philippines.
At the Busan International Film Festival (BIFF), Finecut is also repping Cannes 2020 label film Heaven: To The Land Of Happiness, which made its world premiere as BIFF's opening film on Wednesday, as well as two debut features, The Apartment With Two Women and Through My Midwinter.
The former is in the New Currents competition and the latter is in the Korean Cinema Today – Vision section. Hong Sangsoo's latest films In Front Of Your Face and Introduction are also screening in BIFF's Icons section at Busan.
In the market, Finecut also has the thriller Midnight, starring Wi Ha-jun (Squid Game) as a vicious murderer chasing after a deaf woman; Hot Blooded, a crime noir drama; Shark: The Beginning, an action film also starring Wi as an MMA champion; and haunted asylum horror film Guimoon: The Lightless Door, available in ScreenX and 4DX.