Producers from Finland, the Czech Republic, Sweden, Poland and Russia picked up awards at this year's 13th Baltic Event co-production market (Nov 24-28) in Tallinn.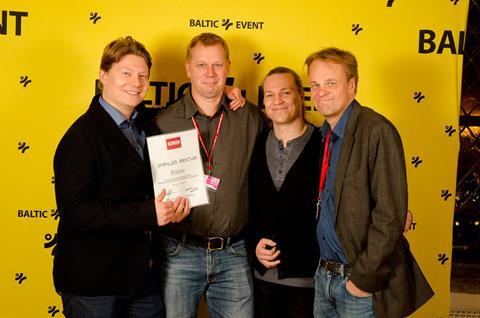 Finnish comedy Impaled Rektum by feature debutants Jukka Vidgren and Juuso Laatio was awarded the Screen International Best Pitch Award.
The €1.4m production about a young loser trying to overcome his stage fright and other fears by leading the worst heavy band of Finland, Impaled Rektum, to the hottest metal festival in Norway, will be produced by Kai Nordberg and Kaarle Aho of Helsinki-based Making Movies Oy.
This is the second time that Nordberg and Aho have received Screen's Best Pitch Award after having previously been selected with Petri Kotwica's Rat King which then went on to premiere at the Tribeca Film Festival.
Other past winners of the award include Alexei German's Under Electric Clouds, which is understood to be premiering at a major international film festival soon, and the first Baltic co-production Seneca's Day by Kristijonas Vildziunas, the winner in 2013.
Producer Uljana Kim told ScreenDaily exclusively at this year's Baltic Event that shooting on the film began in late summer and will continue in December, with additional filming in summer 2015.
One of the Promising Young Producers awards - a free pass to the Cannes Producers' Network next May - went to the Czech producer Michal Krácmer of cinédix who had been pitching writer-director Aramisova's children's adventure drama Kids From The East.
The Clear Light Award - offering € 5,400 worth of the DS LED lighting system from Digital Sputnik - was presented to Stockholm-based producer Emma K. Dixgard of Red Sister AB for the thriller Killer's Fee written by Oliver Dixon.
Meanwhile, € 5,000 worth of postproduction services at the Estonian Digital Centre were offered by FilmEstonia.eu to Polish director Piotr Trzaskalski's fourth feature film The Wounded Beast as the Best Project.
The € 1m production by ADHD Warsaw currently has Poland's Next Film as a partner and was in Tallinn to find potential co-producers and sales agents to come onboard the project.
This year's selection of 13 projects from 11 countries at the co-production market also included successful Estonian short film director Anu Aun's feature debut The Polar Boy which she had developed at the Torino Film Lab and the Berlin-based Nipkow Programm residency; Ukrainian producer Olena Fetisova's family drama GameOver, which already has partners attached from Norway and Luxembourg; and Latvian writer-director Janis Nords' drama Survivalist, the second feature by Riga-based Tasse Film.
Baltic Bridge East By West (B'EST)
The fourth edition of the B'EST training and promotion initiative features eight projects from Estonia, Iceland, Slovakia and Slovenia on the European Union side and from Kyrgyzstan and Russia from the CIS side.
In addition, four participants without projects were in Tallinn, including UK-based Fyodor Druzin of Curb Denizen and documentary producer Raymond McCormack from Dublin-based Gambit Pictures.
Two prizes were handed out to B'EST participants at Tallinn's Town Hall on Thursday evening:
a second free pass to Producers' Network in Cannes next May for Rock Films' Olga Ailarova who was representing Elena Hazanov's thriller drama Stockholm Syndrome;


an award by the private Saint Petersburg-based development fund P.O.V. of € 10,000 development support to the Kyrgyz-Russian tragicomedy Sulaiman Mountain, to be directed by Elizaveta Stishova and produced by Maria Yakubova of Moscow-based Trikita Entertainment.
A second session of the B'EST programme will be held in Moscow next June during the seventh edition of the Moscow Business Square, which will have the Middle Eastern film industry as the focus of its business programme for 2015.
Coming Soon
The Baltic Event's participants also had a chance to see excerpts of works in progress from the region, ranging from Margus Paju's directorial debut, the family adventure film Secret Society of Souptown through Latvian Viestur Kairish's Second World War drama Chronicles of Melanie to Urmas Eero Liiv's adventure thriller Ghost Mountaineer.
Liiv's producer Anneli Ahven of Kopli Kinokompanii told ScreenDaily that Ghost Mountaineer now has an Italian co-producer onboard: Aurelio Laino's Decima Rosa Video from Trento.
Finland's Making Movies revealed that it would be showing Klaus Harö's new feature The Fencer to the Berlinale selectors who are also screening Victor Dement's drama The Find, starring Alexey Guskov, and Markku Lehmuskallio and Anastasia Lapsui's drama about a man buying a 10-year-old Alaskan Indian girl in Tsamo
Meanwhile, Allfilm's Evelin Soosaar-Penttilä announced that Mihkel Ulk's coming of age drama Zero Point had just been completed and would open in Estonian cinemas on December 4, and Latvian writer-director Laila Pakalnina showed footage from her latest feature, Dawn, which wrapped principal photography a couple of weeks and is being co-produced by Digital Sputnik and Poland's Staron Film and Miracle Worker (Wojtec Staron is serving as the film's DoP).
Moves in Moldova
All eyes will be on Sunday's elections in Moldova, but, if all goes well, the small country wedge between Romania and Ukraine should have a Film Centre established in the near future.
Producer Dumitru Marian of AltFilm explained that, after five years of preparation, a Cinema Law had been signed in July of this year and the ratification of the EU-Moldova Association Agreement made the country more attractive and safer for outside investors to consider,
¨ Although there is no official financing in place, there are still a number of emerging producers who are investing their own money in projects,¨ Marian said, pointing out that the film-maker Igor Cobileanski has been ¨ an inspiration for the younger generation of film-makers and has put Moldovan cinema on the international map¨.
Cobileanski, who has recently been working on a project for HBO Romania, made his feature film debut in 2013 with The Unsaved, Moldova's Oscar entry this year, which was written by Corneliu Porumboiu and lensed by Mungiu and Loznitsa DoP Oleg Mutu who hails from Moldova.
Several films are currently in (post)production or preparation, ranging from Ana-Felicia Scutelnicu's second feature Anishoara and Mircea Bobina's In The Sidecar - both co-produced with German partners -, through Alexander Kurilov's animation short In Exile and the documentary 100 Risings to Natalia Shaufert's Matchmaking Agency 'Nadejda'.
Suck Day & Date
German box-office hit Suck Me Shakespeer (Fack Ju Göhte) will have a Russian day-and-date release next week after opening the 13th Festival of German Films in Moscow on December 3.
The film's Russian distributor Raketa Releasing will open the film the next day, on December 4, in the cinemas and on VoD via ivi.ru
The German Films' showcase is also partnering with a ivi.ru for the first time to have a German section in its programme showing films from past editions of the festival - such as Houston, Home For The Weekend, At Ellen's Age - along with Suck Me Shakespeer.