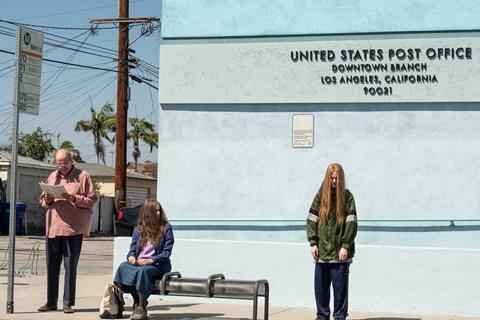 Kelly Reichardt's period drama First Cow, Miranda July's crime comedy caper Kajillionaire and Jonathan Nossiter's dystopian drama Last Words will be among 14 US titles playing in competition at the Deauville American Film Festival this year.
The festival, unfolding in the upmarket beach resort of Deauville on France's Normandy coast, will take place September 4-13.
It will be one of the first film festivals to take place physically in France since the Covid-19 pandemic hit in early March, alongside the Angouleme Francophone Festival, which runs August 28 to September 2 in the southwest of the country.
"This edition is unique for the conditions under which it has come together. To do the selection this year, I must have watched more than 200 films, which is less than previous years because of the health crisis," said festival director Bruno Barde, who watched 15 films a week during France's lockdown.
"I have to admit that watching the films on a small screen against the backdrop of so many thoughts, gives this selection a particular colour."
Deauville's US-focused competition typically features independent titles that have already premiered elsewhere but are on the verge of being released in France, or looking for distribution.
First Cow premiered in competition at the Berlinale this year but has yet to secure a French distributor. Reichardt's thriller Night Moves won the festival's grand prize in 2013.
Kajillionaire premiered at Sundance and is due to be released in France by Apollo Films on September 30. Cannes Directors' Fortnight recently revealed it as one of the films that would have played in this year's edition in May had it not been cancelled due to the pandemic.
Nossiter's drama Last Words was feted with the Cannes 2020 label in June and will physically world premiere at San Sebastian. It is due to be released in France on October 21 by Jour2Fête.
Other selections include romantic comedy Love Is Love Is Love (aka Late Lunch), the second fiction feature of Eleanor Coppola, wife of Francis Ford Coppola.
Six of the features in competition are debuts including Kitty Green's The Assistant and Darius Marder's Sound Of Metal.
French singer/actress Vanessa Paradis will preside over this year's jury. The other jury members will be announced close to the festival. Further sections of the festival will be announced later in the summer.
Deauville competition line-up:
First Cow
Dir. Kelly Reichardt
Giants Being Lonely
Dir. Grear Patterson
Holler
Dir. Nicole Riegel
Kajillionaire
Dir. Miranda July
Last Words
Dir. Jonathan Nossiter
Love Is Love Is Love
Dir. Eleanor Coppola
Lorelei
Dir. Sabrina Doyle
Minari
Dir. Lee Isaac Chung
Shiva Baby
Dir. Emma Seligman
Sophie Jones
Dir. Jessie Barr
Sound Of Metal
Dir. Darius Marder
The Assistant
Dir. Kitty Green
The Violent Heart
Dir. Kerem Sanga
Uncle Frank
Dir. Alan Ball