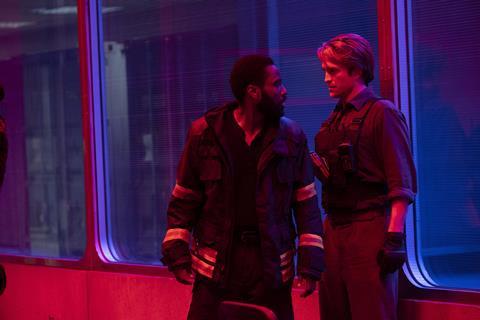 Warner Bros has temporarily removed Tenet from the US release calendar amid a surge in Covid-19 cases and is understood to be working on a non-traditional global release as it maintains "our commitment to the theatrical experience around the world".
Screen understands Warner Bros is exploring an international-first release, well aware territories including China are re-opening cinemas and audiences will be hungry for new content.
The goal is to let Tenet play far longer than usual in cinemas in the belief that audiences will discover it in their own time in safe cinema environments. In South Korea, Yeon Sang-ho's zombie horror Peninsula has grossed around $20m in less than a week in cinemas in five Asian markets with restricted capacity.
Releasing a US tentpole in an international market prior to the North American release is not without precedent but is less common than the traditional US-first model, even though around two-thirds of a US tentpole's global box office comes from outside the US.
Tenet's worldwide box office is expected to break down in similar fashion. By intimating it will buck the trend and not hold back the film's release until US cinemas are ready, Warner Bros is sending an encouraging signal to international exhibitors, some of whom have expressed concerns in the press that their businesses are being impacted without major new Hollywood content.
Warner Bros has also moved The Conjuring 3 from to June 4, 2021. Wonder Woman 1984 and Dune remain set to open theatrically on October 2 and December 18, respectively.
"Our goals throughout this process have been to ensure the highest odds of success for our films while also being ready to support our theater partners with new content as soon as they could safely reopen," said Warner Bros. Pictures Group. chairman Toby Emmerich.
"We're grateful for the support we've received from exhibitors and remain steadfast in our commitment to the theatrical experience around the world. Unfortunately, the pandemic continues to proliferate, causing us to reevaluate our release dates. Amidst all this continued uncertainty, we have decided to vacate the current dates for our next two releases.
"We will share a new 2020 release date imminently for Tenet, Christopher Nolan's wholly original and mind-blowing feature. We are not treating Tenet like a traditional global day-and-date release, and our upcoming marketing and distribution plans will reflect that. Additionally, we will be moving the next installment from our most-successful horror franchise, The Conjuring 3, to June 4, 2021."
While it remained to be seen precisely what form the worldwide distribution strategy will take, studio executives know the particular challenge Nolan's intricately plotted films present: prior to Monday they had been planning a day-and-date worldwide launch for Tenet to prevent spoilers from leaking out.
Additionally, the CFA in China has said individual screenings should not exceed two hours to enable thorough cleaning between presentations. Tenet, which stars John David Washington, Robert Pattinson, Elizabeth Debicki, and Kenneth Branagh, is two hours and 30 minutes long.
At time of writing it also remained to be seen whether the latest disruption to the release calendar would set in motion the usual domino effect and push back other studio releases.
Disney's Mulan is set for August 21, Solstice Studios' Unhinged is set to open on July 31, and UA's Bill & Ted Face The Music is scheduled for August 28. None of these studios had announced date changes at time of writing.
However on Monday afternoon Sony removed The Broken Hearts Gallery from the US release schedule. The romantic comedy had been set for August 7 and is now TBD, although it is understood Sony remains committed to a theatrical release once cinemas can reopen safely.
Sony Pictures Classics has dated 2019 Cannes Un Certain Regard entry The Climb for October 9 in New York and Los Angeles theatres, with additional cities to follow. The comedy had been set for March 20 before it was postponed due to the pandemic.