EXCLUSIVE: The director of The Artist pays tribute to Jean-Luc Godard in his new film.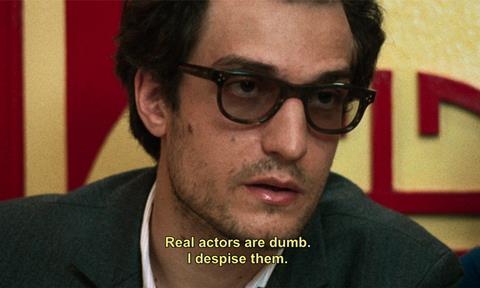 French actor Louis Garrel is unrecognisable as Jean-Luc Godard in Oscar-winning Michel Hazanavicius's homage to the iconic filmmaker Redoubtable.
As speculation builds over whether the film will make it into Official Selection at the Cannes Film Festival, Hazanavicius first posted the short French-language teaser on his Facebook page last week (Mar 29) to mark his birthday.

Screen has obtained a first English-language subtitled version of the teaser through its international sales agent Wild Bunch, which first announced the project on the eve of the last Cannes Film Festival.
Watch below, or HERE on mobile devices.
The film is inspired by actress Anne Wiazemsky's autobiographical account of her relationship with the film-maker, which began in the late 1960s when she was just 17-years-old and he was on the rebound from Anna Karina.

Stacy Martin plays Wiazemsky in a cast which also features Bérénice Bejo.

The Cannes Official Selection will be announced on April 13. As per festival protocol, none of the French titles will be confirmed until all the potential entries have been screened. This traditionally happens on the eve of the announcement, so another week at to wait.
Read more:
Cannes 2017: Who's in the running?