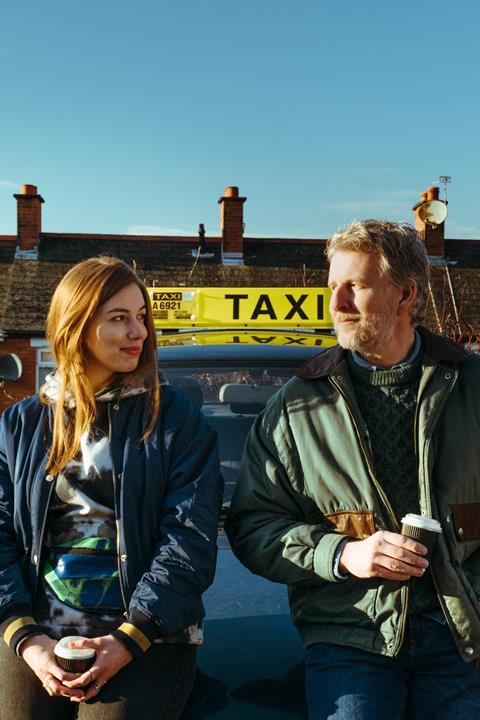 Filming has finished on location in Northern Ireland on Ballywalter, the feature directorial debut of doctor-turned-director Prasanna Puwanarajah.
Screen can reveal an exclusive first-look at the film.
Ballywalter follows a university drop-out living with her mum and making money as an unlicensed minicab driver, who picks up a budding stand-up comic whose marriage has recently broken up.
Screen Star of Tomorrow 2017 Seána Kerslake stars alongside Northern Irish comedian and TV personality Patrick Kielty in his first leading film role. The script was written by Stacey Gregg, who shot her debut feature Here Before in 2019.
The film is produced by James Bierman of Empire Street Productions and Nik Bower of Riverstone Pictures, in co-production with Alan Maher and John Wallace of Ireland's Cowtown Pictures.
The executive producers are Deepak Nayar, Natascha Wharton, Celine Haddad, Salman Al-Rashid and Sam Frohman. Co-producer is Brian J. Falconer.
It is financed by the BFI Film Fund, Screen Ireland, Northern Ireland Screen and Salmira Productions. Bankside Films is handling worldwide sales.
Puwanarajah wrote 2012 short Boy starring Timothy Spall, which featured in the opening ceremony for the London 2012 Olympic Games; his debut stage play Nightwatchman premiered at the National Theatre in 2011. His credits as an actor include Diana and Möbius (both 2013).
Prior to his career in the arts he trained as a medical doctor at University of Oxford and worked for the UK's National Health Service and Médecins du Monde for three and a half years.