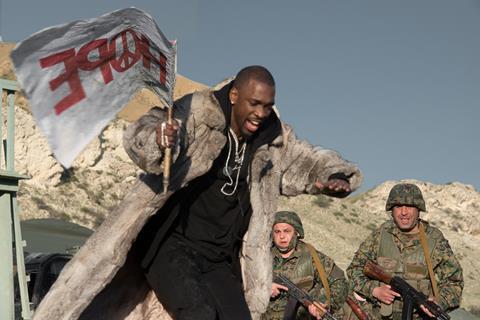 Screen can unveil a first look at Jay Pharoah (Ride Along) in How To Sell A War, the fiction feature debut of documentary director Rudolph Herzog, which wrapped this week after shooting in Dublin and Georgia.
In the film, Pharoah plays vain and arrogant rock star Harry Hope who is due to lead a global charity concert in a warzone. When a ceasefire is called four days before the event, Hope's PR consultant sets off on a mission to create a fake news story letting the world know that the war is back on. Katherine Parkinson (The IT Crowd) and Lily Newmark (Pin Cushion) also star.
Sales agent Bankside Films has inked early deals on the title, including China (Lemontree), the Middle East (Front Row), and Switzerland (Praesens).
Samantha Taylor and Mike Downey are producing under their Dublin-based banner Film and Music Entertainment (F&ME). Key financing comes from the UK's Quickfire and Helsinki-based IPR.VC with co-funding from the Georgian National Film Centre and the tax credit scheme of Enterprise Georgia.
Tim Price wrote the script based on an idea by Raid Sabbah. Co-producers are Vladimer Katcharava and Radek Drabik and executive producers are James Atherton, Jan Pace, James Bierman and Aleksi Bardy.
"This is a very funny take on the contemporary idea of fake news. The shoot went really well in both Georgia and Dublin," commented producer Mike Downey. "There is huge screen value working in somewhere like Georgia with such vast wealth of talent supporting our director and his world class cast. We are well underway with the edit now at Windmill Lane in Dublin and are on the final stretch."