Filming has begun on location in England and Scotland on Working Title Films production.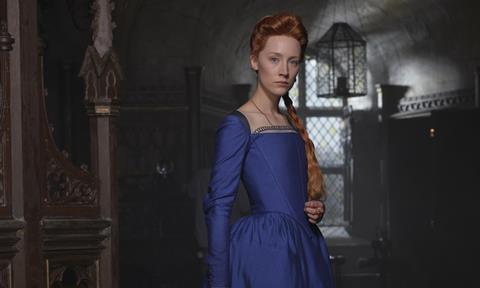 Focus Features holds worldwide rights and will release Mary, Queen Of Scots in the US, while Universal Pictures International (UPI) will distribute the film internationally.
Josie Rourke, artistic director of The Donmar Warehouse, makes her feature directorial debut on the film.
Beau Willimon wrote the screenplay adaptation based on John Guy's biography My Heart Is My Own: The Life Of Mary Queen Of Scots.
Mary, Queen Of Scots explores the turbulent life of the charismatic Mary Stuart. Queen of France at 16 and widowed at 18, Mary defies pressure to remarry. Instead, she returns to her native Scotland to reclaim her rightful throne. But Scotland and England fall under the rule of the compelling Elizabeth 1. Each young Queen beholds her "sister" in fear and fascination.
Rivals in power and in love, and female regents in a masculine world, the two must decide how to play the game of marriage versus independence. Determined to rule as much more than a figurehead, Mary asserts her claim to the English throne, threatening Elizabeth's sovereignty. Betrayal, rebellion, and conspiracies within each court imperil both thrones – and change the course of history.
Saoirse Ronan stars in the title role opposite Margot Robbie as Elizabeth I. Also joining the cast are Jack Lowden, Joe Alwyn, Martin Compston and Brendan Coyle, as well as David Tennant and Guy Pearce.
Ronan earned Oscar nominations for Atonement and Brooklyn. She can next be seen in the upcoming Ladybird, On Chesil Beach and Loving Vincent.
Robbie's film credits include The Wolf Of Wall Street, The Legend Of Tarzan, and Suicide Squad.
Working Title co-chairs Tim Bevan and Eric Fellner, and Debra Hayward produce, reuniting following their best picture Oscar nomination for Les Misérables.
Focus chairman Peter Kujawski said: "We are privileged to be collaborating with our partners at Working Title on this stellar production, and with Josie as she makes the exciting move from stage to screen work. With two of today's most vital actresses bringing to life two female titans, Mary, Queen Of Scots will be one of the movie events of 2018."