Bleecker Street set to distribute in the US; film gets August release date.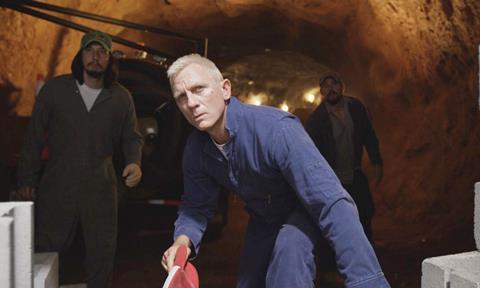 Bleecker Street are partnering with Fingerprint Releasing to distribute Steven Soderbergh's Logan Lucky in the United States.
The film, Soderbergh's first after a four-year hiatus, is set for wide release in the US on 18 August.
Logan Lucky is a thriller about two brothers who attempt a heist during a NASCAR race. It stars Daniel Craig (pictured), Channing Tatum, Adam Driver, Riley Keough, Hilary Swank, Seth MacFarlane, Katie Holmes and Katherine Waterston.
Glen Basner of FilmNation is handling international sales. FilmNation previously handled Magic Mike and Side Effects for Soderbergh.
Fingerprint Releasing was created by Soderbergh and is piloted by former Warner Bros. head of distribution Dan Fellman.
Says Soderbergh: "This is the result of sixteen years of conversations I've had with Dan about creating a new distribution paradigm for star-driven, wide release projects. With Logan Lucky I have the right movie, the right team, and the right partner in Bleecker Street to test some personal theories I've accumulated. It's put-up-or-shut-up time."
The original screenplay is by Rebecca Blunt. Gregory Jacobs, Mark Johnson, Reid Carolin, and Channing Tatum served as producers. Zane Stoddard of NASCAR is an Executive Producer, along with Michael Polaire and Fellman.
The deal was negotiated between Andrew Karpen with Avy Eschenasy on behalf of Bleecker Street and Ken Meyer on behalf of the filmmakers.