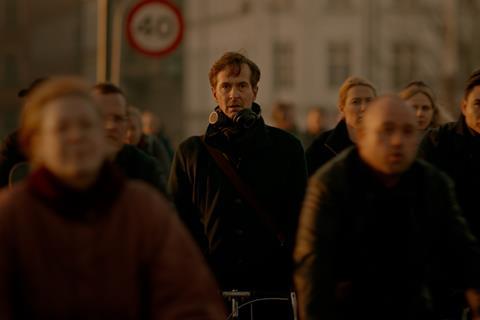 Screen can exclusively reveal the first-look image from Ole Christian Madsen's forthcoming feature The Day We Died, now in post.
The story follows four people connected to the February 2015 terrorist attacks in Copenhagen: two victims, the radicalised homegrown terrorist and the SWAT team leader who shot the terrorist. The latter is played by Game Of Thrones star Nikolaj Coster-Waldau.
This image shows Lars Brygmann, whose credits include Borgen and That Time Of Year, playing Finn Nørgaard, the Danish filmmaker killed in the attacks.
"I realised if I could have four characters and intertwine them in the same story, I might have a chance to give a broader impression of what's the state of mind in Europe right now," says Madsen, whose credits include Flame & Citron and TV's Banshee. "The attack was so random and so unpredictable, that's the essence of this fear of terrorism, you struggle with your daily life and then you get shot. This incident was a gamechanger for Denmark."
Madsen knew Nørgaard and has done a lot of research about the real people impacted by the attack. "The research has been extensive. We talked to as many people as we could. The best way we can honour the victims is making the best possible film."
Creative Alliance shot the film at the real locations in Copenhagen earlier this year. SF Studios is handling Nordic distribution from March 5, 2020 as well as international sales. SF has works-in-progress clips to show buyers at AFM.