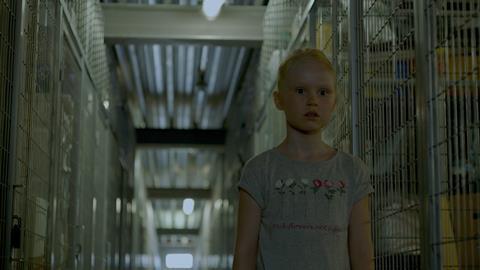 Protagonist Pictures has boarded world sales, excluding the Nordics, for writer/director Eskil Vogt's The Innocents, now in post.
Screen can reveal the film's first image here. The supernatural thriller is Vogt's second feature as a director following Blind, which won a screenwriting prize at Sundance 2014. During one summer in Norway, a group of children (ages 6 to 12) reveal their dark and mysterious powers when the adults aren't looking.
Maria Ekerhovd produces for Mer Film, which will also distribute in Norway.
The cast includes Rakel Fløttum (pictured), Alva Ramstad, Ismail Ashraf, Mina Asheim and Ellen Dorrit Petersen.
Vogt told Screen on the set, "One aspect I want to delve into is a child's perspective of the world where everything is magical but can feel dangerous as well, because you don't know the limits of the physical world."
Vogt – also known as the co-writer on Joachim Trier's Oslo Reprise, Oslo, August 31st, Louder Than Bombs and Thelma– said he also wanted to explore "what kids do when the parents aren't paying attention for various reasons."
The film shot for 46 days in and around Oslo in summer 2019.
The team spent a full year to casting and then do pre-shoot workshops with it young cast. "What we did right was all the thinking and reflection in pre-production, and spending time finding the right kids. That's what makes it all possible," Vogt added, "I try to create a really playful environment on set when they have breaks they can play. But they are very serious. We worked with with them quite a bit – a few months – and then we treated like actors. We gave then some basic skills for acting and some tools to help their way of working."
Co-producers are Zentropa Sweden, Finland's Bufo, Denmark's Snowglobe and France's Logical Pictures.
Backers include the Norwegian Film Institute, Swedish Film Institute, Danish Film Institute, Finnish Film Foundation, Nordisk Film & TV Fond/Nordic Genre Boost, Film i Vast and Eurimages.
The Innocents recently unveiled work-in-progress footage at Goteborg's Nordic Film Market.