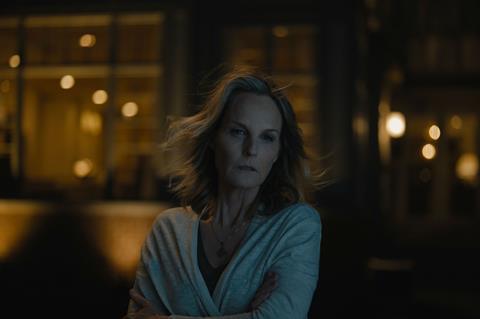 I See You, the horror feature starring Helen Hunt, has rounded out its cast and is now shooting in Cleveland, Ohio.
Joining Hunt and Jon Tenney on the project are Judah Lewis, Owen Teague, Libe Barer, Greg Alan Williams, Erika Alexander, Allison King and Sam Trammell.
Adam Randall (iBoy) is directing from a script by Devon Graye. Screen can also unveil a first-look still from the project, above.
Bankside Films is handling sales on the project in Cannes.
Set in a perfect town filled with perfect families, the film tells the story of a twelve-year-old boy who goes missing. Greg Harper, lead investigator on the case, struggles to balance the pressures of the investigation, which has brought to attention a similar case thought to be buried in the past, while finding a way to forgive his wife for a recent infidelity. When a malicious presence manifests itself and puts their young son in mortal danger, the hard truth about evil in the Harper household is finally uncovered.
Matt Waldeck produces for Zodiac Features. Ben Hecht serves as executive producer for Zodiac, alongside Stephen Kelliher for Bankside Films, Phil Hunt and Compton Ross for Head Gear Films and James Atherton and Jan Pace for Quickfire Films.