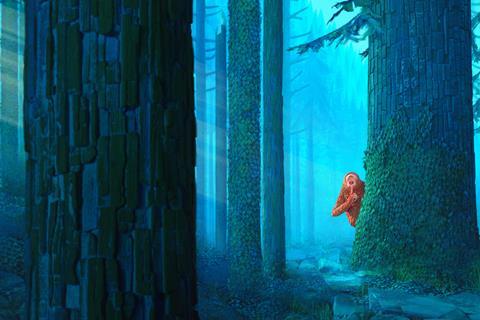 LAIKA chief Travis Knight announced on Tuesday (May 8) the company's fifth film Missing Link will will open in the US in spring 2019 as he unveiled the full cast ahead of a buyers presentation in Cannes today with AGC International.
Emma Thompson and Stephen Fry have joined Hugh Jackman on the voce cast alongside Zach Galifianakis, Zoe Saldana, Timothy Olyphant, Matt Lucas, David Walliams, Amrita Acharia and Ching Valdes-Aran.
Jackman voices Sir Lionel Frost, and investigator of myths and monsters who sets out to America's Pacific Northwest to prove man's primitive ancestry. Chris Butler directs from his screenplay, while LAIKA's head of production Arianne Sutner produces with Knight. Annapurna handles the US release.
"Missing Link is an artistic and technical wonder," Knight, who will attend the presentation at 3pm on Tuesday, said. "Led by our visionary director Chris Butler, LAIKA has once again blended fine art, craftsmanship, and cutting-edge technology to achieve something we've never tried before: a raucous comedy entwined with a swashbuckling epic, underscoring the universal need to find belonging.
"Comingling keenly felt emotion, madcap humor, and retina-bursting visuals, Missing Link is a kaleidoscopic cinematic experience unlike any other. It's the most striking thing we've ever done."
"It was a constant source of delight to witness how our game and captivating cast imbued these larger-than-life characters with distinct personality," Butler said. "Hugh lends Sir Lionel a giddy schoolboy enthusiasm bubbling beneath the surface of his suave English gent; Zoe brings an unflappable ardor and a witty playfulness to Adelina, and Zach's performance as Link is not only laugh-out-loud funny, but a beautifully nuanced balance of innocence and vulnerability. It was a treat to be able to join this eclectic gang of adventurers on their journey across the world."
"It's only now with our fifth film that as a team we have the experience, the know-how and the collaborative confidence to even attempt a movie of this size and scope," Sutner said. "We created 110 sets with 65 unique locations to achieve the film's scale, majesty and geographic beauty. I couldn't be more in awe of our LAIKA crew members. Their endless reserves of imagination were pushed to the limit during the production of this ambitious movie, and we ended up soaring past those limits."