Danish producers Snowglobe, whose credits include festival hits such as Godless, Thelma and The Untamed, are now in post-production on Lifeboat (working title), the feature directorial debut of Josefine Kirkeskov.
Screen can unveil this first image of Sofia Helin (Saga in The Bridge), who stars as Iben, a woman on a romantic sailing holiday with her boyfriend (Kon-Tiki's Pål Sverre Hagen) when they rescue a refugee woman (Sebnem Hassanisoughi of TV's Wounded Love) who makes Iben confront her past.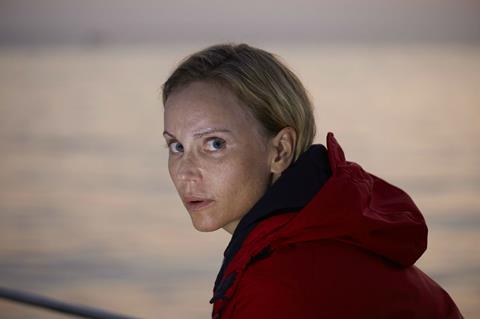 Writer/director Kirkeskov, a graduate of the National Film School of Denmark, explains, "The idea for the film came as a reaction to the current refugee crisis in Europe. I'm interested in the space that results by the encounter between strangers, the space created when they are forced to relate to each other, and therefore also relate to themselves."
Snowglobe producer and co-founder Mikkel Jersin says, "The story is ultimately about survival strategies. The two female leads each deal with a terrifying past. One fights to live – the other fights to survive."
The team aims to deliver the film in autumn 2018 and will start screening to sales companies in April.
Lifeboat was backed by Skitsen initiative from the Danish Film Institute's New Danish Screen. The film's co-producers are MP Films from Croatia and LEE Film from Sweden. Other partners are DR/TV2, HAVC, the Swedish Film Institute and SVT.
Skitsen encourages a creative development process, driven by visual ideas and other exploration, without the usual reliance on a completed script before greenlight.
Snowglobe producer Mikkel Jersin says of Skitsen, "it's possible to visually draft the idea for the film and learn about the creative and productional challenges that lie ahead – even before a first draft of the script is completed. For us it was a gift to explore our project in depth with a film crew and a cast before completing our screenplay."
The film shot for 22 days in September and October 2017 in Copenhagen and in Western Croatia, on the island of Losinj.
Shooting a film at open sea was difficult and that wasn't helped by "the worst seasonal weather in more than 25 years," Jersin says. The crew of 35 and the cast had to be in a quite limited space, as well. "This was a shoot that required real stamina for everyone involved," the producer adds.
Of her cast, Kirkeskov adds, "We spent a lot of time searching for the right actors for the roles, since the dynamics between them were so important in a chamber play like this. So I was beyond excited when we ended up with Sofia, Pål and Sebnem. When Sofia and I first met, we instantly connected on the theme of the film, on her character and its journey. She instinctively understood the character thoroughly, which added a new layer to my ideas, and she immediately devoted herself with such personal commitment."
Jersin said Kirkeskov has an "exceptional ability to create real life characters. Josefine enhances the seemingly small psychological issues between characters to create powerful dilemmas that go straight to the heart."
Snowglobe – run by Jersin, Eva Jakobsen, and Katrin Pors – is also in post-production on another Danish feature debut, Sticks & Stones by Martin Skovbjerg; and is co-producing Where Life Is Born by Carlos Reygadas; Monos by Alejandro Landes; A Sort Of Family by Diego Lerman; Birds of Passage by Cristina Gallego and Ciro Guerra; Overgod by Gabriel Mascarol; and Petra by Jaime Rosales.