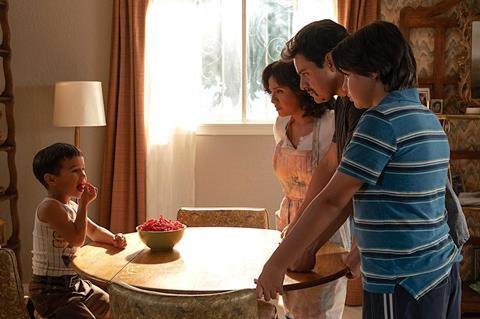 Eva Longoria's feature directing debut Flamin' Hot has won the 2023 SXSW Headliners Audience Award, the festival announced on Monday as it unveiled the complete roster of winners.
Flamin' Hot recounts the story of Richard Montañez, the Frito-Lay janitor who turned Flamin' Hot Cheetos into a global name.
It emerged separately and earlier on Monday that the film will get an unprecedented debut on both Hulu and Disney+ on June 9. That will make it the first scripted release to stream simultaneously on both platforms in the US. It will be available on Disney+ internationally.
In other awards, Imran J. Khan's Mustache earned the Narrative Feature Competition prize, Dan Covert's Geoff McFetridge: Drawing A Life sold by Visit Films won the Documentary Feature Competition award, and Bishal Dutta's It Lives Inside took the Midnighters prize.
Over the course of nine days from March 10-19 the 2023 Film & TV programme included 110 features and 75 world premieres. The previously announced SXSW juried prize winners are here.
Full list of 2023 SXSW audience award film and TV winners
FILM
Headliners
Flamin' Hot, dir. Eva Longoria
Narrative Feature Competition presented by Panavision
Mustache, dir. Imran J. Khan
Documentary Feature Competition presented by ACE91
Geoff McFetridge: Drawing A Life, dir. Dan Covert
Narrative Spotlight
The Long Game, dir. Julio Quintana
Documentary Spotlight
The Herricanes, dir. Olivia Kuan
Visions
Tobacco Barns, dir. Rocío Mesa
Midnighters
It Lives Inside, dir. Bishal Dutta
GLOBAL presented by MUBI
Ek Jagah Apni, dirs. Ektara Collective
24 Beats Per Second
Louder Than You Think, dir. Jed I. Rosenberg

Festival Favorites
No Ordinary Campaign, dir. Christopher Burke
Narrative Shorts Competition
Closing Dynasty, dir. Lloyd Lee Choi
Documentary Shorts Competition
Grandma & Grandma (Nǎi Nai & Wài Pó), dir. Sean Wang
Animated Shorts Competition
Sandwich Cat, dir. David Fidalgo
Midnight Shorts Competition
Dead Enders, dirs. Fidel Ruiz-Healy, Tyler Walker, Screenwriters: Fidel Ruiz-Healy, Tyler Walker, Jordan Michael Blake, Conor Murphy
TV
TV Premieres
The Luckiest Guy In The World, dir. Steve James
TV Spotlight
Blindspotting Season 2 Premiere, showrunner. Rafael Casal, dirs: Rafael Casel, Jess Wu Calder
Independent TV Pilot Competition
Notarize Me, dir. Erika Rankin