Eva Longoria's biopic of the Hispanic worker who spiced up America's favourite snacks is blander than its subject deserves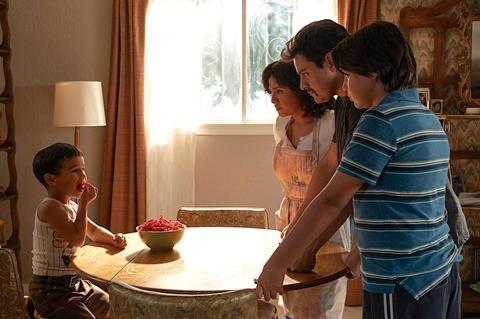 Dir: Eva Longoria. US. 2022. 99mins
For her fiction feature directorial debut, Eva Longoria tells the inspirational true story of Richard Montanez, a janitor at snack manufacturer Frito-Lay who helped revolutionalise the company with an ingenious idea: make their products spicier by adding a little chilli. Flamin' Hot is a breezy affair accented by Jesse Garcia's winning performance as the budding Mexican-American entrepreneur, but this underdog tale ultimately proves to be too unremarkable to generate much heat.
This underdog tale ultimately proves to be too pedestrian to generate much heat
Searchlight unveils the scrappy biopic at SXSW and the Miami Film Festival before releasing it in the US via Hulu on June 9. Flamin' Hot does not sport many big names in front of the camera, but the pleasures of watching an everyman fulfil his unlikely dream may be adequate compensation — despite some recent pushback against Montanez's claim that he actually invented the popular snack Flamin' Hot Cheetos.
In the 1980s, Richard (Garcia) is a poor, uneducated man living in Southern California with his wife Judy (Annie Gonzalez) and their sons, trying to make ends meet. A little bit of luck comes his way, though, when he is hired to be a janitor at a Frito-Lay plant. Instantly fascinated by the company, which produces snacks such as Fritos, Cheetos and Doritos, he befriends Baker (Dennis Haysbert), a gruff engineer who takes Richard under his wing, explaining the intricacy of the machines to him. But Richard wants more out of life than cleaning toilets, deciding that Frito-Lay needs to introduce spicy versions of its snacks — even going so far as to pitch his idea directly to CEO Roger Enrico (Tony Shalhoub).
Colourfully narrated by Richard, who talks to the audience in a jocular, conversational voiceover, Flamin' Hot relishes the outlandishness of Montanez's meteoric rise within Frito-Lay thanks to his innovative products. To be sure, in recent years there have been questions regarding how reliable his tale is, with former Frito-Lay employees — and the company itself — disputing some of his claims. But Longoria, who previously directed the boxing documentary La Guerra Civil, doesn't concern herself with such nuances, instead presenting Montanez's story as the unqualified triumph of an impoverished outsider who believed in the American dream, despite the racism he endured along the way. With his big smile and unshakable confidence, Richard has no doubt he is destined to succeed and Garcia imbues the character with a charming swagger.
Beyond saluting Montanez's astute business instincts, Longoria also positions the film as a celebration of Mexican culture — and an example of what can happen when closed-minded corporations start listening to other perspectives. Although Flamin' Hot is too simplistic in its depiction of how Richard convinces Roger and his cronies to take a chance on spicy crisps, there's something undeniably stirring about the notion that, for America's growing Hispanic population, tasting a chilli-infused snack was a small way to reconnect with home. For Richard, this was not just a sound commercial idea but also personal — a heartfelt attempt to honour his heritage while living in a country that often made him feel like a second-class citizen.
Unfortunately, this biopic tends to stay on the surface, whether it's exploring how these spicy seasonings profoundly altered the so-called Snack Wars of the 1990s or digging deep on a man who escaped an adolescence of crime to make something of himself. Flamin' Hot wants so badly to be a feel-good story that Richard's journey is a little too easy, reducing him to a one-dimensional aspirational figure. (The same could be said of his wife Judy, who Gonzalez portrays as endlessly supportive but also bland and saintly.) At just under 100 minutes, the picture feels a bit like an appetiser, depriving viewers of the delicious details that make such remarkable true stories riveting.
It does not help that the lighthearted Flamin' Hot is jokey instead of really funny. Richard knows that he is probably the least-educated person in any room, and Garcia has fun embodying this dreamer's mixture of street smarts and self-deprecation. But the film's societal observations are fairly toothless. Lewis Colick and Linda Yvette Chavez's screenplay, adapted from Montanez's memoir, mocks Frito-Lay's uptight, out-of-touch white executives who cannot relate to Richard's self-described gangster mentality, but the jokes are never especially incisive. And the obstacles placed in Richard's path — including his verbally abusive father Vacho (Emilio Rivera) — seem as flimsy as cardboard. Unlike the Flamin' Hot Cheetos that made Richard Montanez's name, this biopic does not have much kick.
Production company: Franklin Entertainment
Worldwide distribution: Walt Disney Studios
Producer: DeVon Franklin
Screenplay: Lewis Colick and Linda Yvette Chavez, based upon the book 'A Boy, A Burrito And A Cookie: From Janitor To Executive' by Richard Montañez and the life stories of Richard Montanez and Judy Montanez
Cinematography: Federico Cantini
Production design: Brandon Mendez, Cabot McMullen
Editing: Kayla M. Emter, Liza D. Espinas
Music: Marcelo Zarvos
Main cast: Jesse Garcia, Annie Gonzalez, Dennis Haysbert, Emilio Rivera, Tony Shalhoub