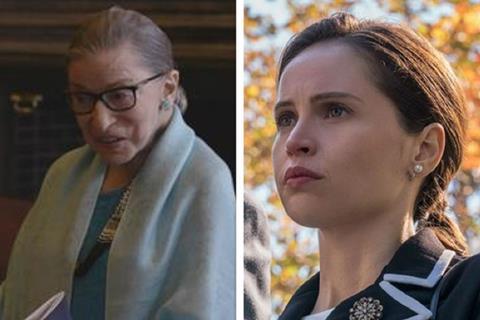 Focus Feature and Magnolia Pictures will re-release On The Basis Of Sex and the RBG, two films about the late Supreme Court Justice Ruth Bader Ginsburg, in US theatres and on VoD this week.
The distributors said the re-releases, in approximately 1,000 cinemas nationwide, are in tribute to Ginsburg's "life and unparalleled legacy upholding justice".
Both companies plan to donate net proceeds from the theatrical box office to the American Civil Liberties Union Foundation in support of the Women's Rights Project co-founded by Ginsburg in 1972.
On The Basis Of Sex opened in 2018 via Focus and was presented by Participant. Felicity Jones plays a young Ginsburg in law school and her role in a groundbreaking gender discrimination case.
Magnolia opened RBG in the same year. The documentary chronicled Ginsburg's rise to the highest court in the US and her unexpected status as pop culture icon. CNN Films is executive producer on the Storyville Films production and holds North American broadcast rights.
Focus Features and Magnolia Pictures said in a joint statement, "Justice Ginsburg spent her life upholding fairness, the law, and the rights of all Americans. These films highlight only a small portion of her legacy to screen, but her vast impact on our country goes far beyond them. We hope that moviegoers are re-inspired by her passion, her courage and take that back into the world."
Ginsburg died on September 18, aged 87. She was only the second woman to sit on the Supreme Court.