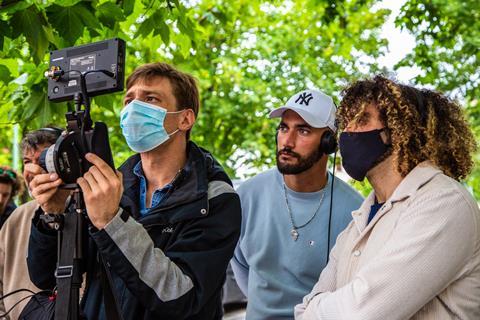 The first footage from Netflix drama Soil, directed by Bad Boys For Life duo Adil El Arbi and Bilall Fallah, is to be presented at Re>Connext, the annual film and TV showcase run by Flanders Image.
It is one of 26 upcoming television projects selected for the event, which serves as an export platform for film and TV drama made in Flanders and will run online from October 5-31. The physical showcase has been cancelled due to the Covid-19 pandemic.
Scroll down for full list of projects
Soil, which will also be directed by Mathieu Mortelmans whose credits include Unit 42, will be presented as a works in progress and is about a young man who decides to import soil from Morocco, in which Muslims in Belgium can be buried, with unexpected consequences.
Shooting on the eight-part series has recently taken place in Belgium under Covid-safe conditions and is produced by Gent-based outfit Lumière after being commissioned by VIER (SBS), in collaboration with Netflix and Telenet.
In total, Re>Connext will present 26 fiction and documentary series including nine project pitches, nine works in progress and eight screenings.
Further drama series set to be pitched include Sylvia Kristel, a six-part biopic about the Dutch actress and Emmanuelle star, directed by Michael R. Roskam, the filmmaker behind the Oscar-nominated Bullhead and Tom Hardy drama The Drop.
Kaat Beels and Nathalie Basteyns, the directors of hit Netflix supernatural thriller series Beau Sejour, will pitch new drama Lost Luggage. The series is set in the wake of the Brussels Airport terrorist attack of March 2016 and follows a policewoman given the job of returning the suitcases left behind to the victims and their families.
Wouter Bouvijn, director of hit drama The Twelve, is to pitch TV series 1985, based around the unsolved case of the Crazy Brabant Killers, a gang that murdered 28 people in a series of raids during the early 1980s.
Bouvijn's latest series, Red Light, which is co-directed by Anke Blondé and stars Carice van Houten will be screened during Re>Connext. The drama follows three women who become entangled in the world of human trafficking, prostitution and crime.
On the documentary front, Kat Steppe's six-part series about the future of The Vatican will be presented as a works in progress, after winning the best pitch award at CONNEXT in 2019.
Also pitched at Re>Connext will be Capturing the Pirate King, a documentary series from award-winning director Lennart Stuyck (What About Eric?) - the unlikely tale of two Somali pirates who were apprehended by the Belgian police. Four years later, one of them is convicted as a "pirate king" while the one is running for Somali president from his home in the US.
The platform usually place over three days under the banner Connext but has been extended to a month for the virtual edition.
As previously announced, the platform will also feature 47 film projects – nearly double the number of films usually presented at the event – including a new drama from Cannes award-winner Lukas Dhont (Girl) and a film produced in lockdown by Milo Rau.
Registered industry professionals will be granted on-demand access to new project pitches, presentations of works in progress, and screenings of recent, new and upcoming titles.
Last year's Connext reported a record number of 300 participants including festival reps from Cannes, Berlin and Toronto alongside sales agents, distributors, broadcasters and producers.
Flanders Image previously stated that it still hopes to host the fifth edition of Connext in Antwerp, Belgium from October 3-5, 2021.
Re>Connext 2020 TV titles
Project Pitches
1985, dir. Wouter Bouvijn (Eyeworks Film & TV Drama)
Arcadia, dir. Tim Oliehoek (jonnydepony BV)
The Twelve (season 2) (Eyeworks Film & TV Drama)
The Swimmer (Lunanime)
Fifty/Fifty, dir. Gijs Polspoel (Caviar)
Sylvia Kristel, dir. Michael R. Roskam (Savage Film)
Undercover (Season 3), dir. Joël Vanhoebrouck (De Mensen)
Lost Luggage, dirs. Kaat Beels, Nathalie Basteyns (De Mensen)
Documentary
Capturing the Pirate King, dir. Lennart Stuyck (Diplodokus)
Works in Progress
3Hz, dir. Sander Brants (De Mensen)
Beau Séjour (Season 2), dirs. Kaat Beels, Nathalie Basteyns (De Mensen)
F*** You Very, Very Much, dirs. Bert Scholiers, Jonas Govaerts (Caviar)
Soil, dirs. Adil El Arbi, Billal Fallah, Mathieu Mortelmans (Lunanime)
Documentary
Borderline, dirs. Annabel Verbeke, Isabella Rinaldi, Anna Savchenko, Vytautas Puidokas, Tiha Gudac, Georg Götmark (Off World)
Draw for Change!, showrunners: Vincent Coen & Guillaume Vandenberghe / dirs.. Laura Nix, Kim Longinotto, Karen Vazquez Gaudarrama, Arya Roth, Anna Moiseenko, Nada Riyadh (Clin d'oeil Films)
The Vatican, dir. Kat Steppe (Panenka NV)
In Our Nature, dir. Serge Leurs (Hotel Hungaria)
XX, dirs. Zaïde Bil, Ischa Clissen, Heleen Declercq, Sam Peeters (Cassette for Timescapes)
Screenings
Albatros, dir. Wannes Destoop (De Wereldvrede)
Blackout, dir. Joël Vanhoebrouck (jonnydepony BV)
The Bank Hacker, dirs. Frank Van Mechelen, Joost Wynant (De Mensen)
A Good Year, dir. Kadir Ferati Balci (Mockingbird)
Hoodie, dirs. Anthony Nti, Olympia Allaert, Senne Dehandschutter (Hotel Hungaria)
Red Light, dirs. Wouter Bouvijn, Anke Blondé (Eyeworks Film & TV Drama)
Undercover (Season 2), dir. Pieter Van Hees, Cecilia Verheyden (De Mensen)
Documentary
The Indecent, dir. Luc Lemaitre (Panenka NV)