Disney's highly anticipated return of the space saga tops Harry Potter and the Deathly Hallows - Part 2's long-standing record.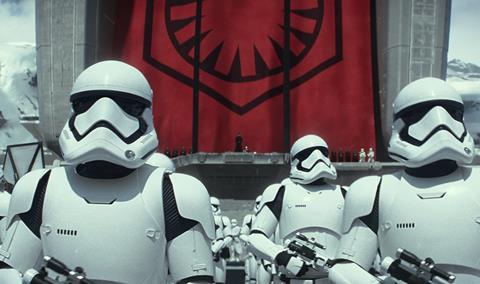 The Force is most definitely strong at the UK box office.
Disney's Star Wars: The Force Awakens has recorded the biggest single day ever for any film with an astonishing non-final $14.37m (£9.64m) on it opening day (Thurs, Dec 17).
The figure tops the $14.15m (£9.48m) generated by Harry Potter and the Deathly Hallows: Part 2, which opened on Friday July 8, 2011.
Midnight screenings alone accounted for $3.6m (£2.4m) of Star Wars opening day haul.
Given what it achieved on a Thursday, there's every chance that The Force Awakens could break its own record over the weekend.
The result also means that from just one day, The Force Awakens has beaten Star Wars: Episode I - The Phantom Menace's opening weekend of $14.2m (£9.51m) from 460 sites in July 1999.
On the Digital Cinema Media estate which includes Cineworld, Vue, Odeon and Picturehouse, The Force Awakens did at least 766,000 admissions on its opening day according to DCM's head of film Tom Linay.
With grosses likely to be equal, or even higher, today and tomorrow, Deathly Hallows: Part 2's Fri-Sun record haul of $35.45m (£23.75m) is also under serious threat from The Force Awakens.
Back in October, James Bond movie Spectre set the record for the biggest opening ever at the UK box office with $61.63m (£41.3m) from its seven-day debut.
The Force Awakens would have to repeat its Thursday gross each day to stand a chance, but it remains a distinct possibility.
Given its staggering start and with the Christmas holidays just around the corner, Star Wars: The Force Awakens looks to have Skyfall's all-time record haul of $153.6m (£102.88m) firmly in its sights.