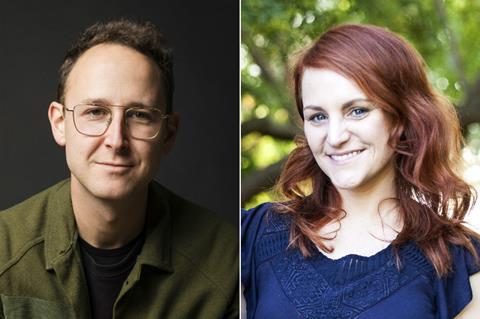 Former Casarotto Ramsay agent David Kayser has teamed up with Aoife Lennon-Ritchie of The Lennon-Ritchie Agency to launch Torchwood, a new South Africa-based literary agency representing screenwriters, directors and producers.
The firm has offices in Cape Town and Johannesburg and will represent clients both in South Africa and globally. It already represents talent in the UK, Ireland, France, Denmark, Nigeria and South Africa and will represent clients internationally and locally.
Kayser and Lennon-Ritchie are founding partners and currently the sole agents on the company.
Torchwood has signed a deal with TAC Studios – the development and production arm of US network The Africa Channel – to scout for talent and projects under the remit of producing African content for the diaspora and international market.
South African native Kayser trained as an agent at Casarotto Ramsay & Associates in London, starting out in the office of Rachel Holroyd. In over nine years at the company, he worked with clients including writer Jack Thorne (The Secret Garden, Enola Holmes), director Lenny Abrahamson (Room, Frank) and writer Michael Lesslie (Macbeth, Assassin's Creed).
He also represented South African talent including writer Amy Jephta (TV's Trackers) and director Sibs Shongwe-La Mer (Necktie Youth), with whom he runs film and TV production firm Laika 1991.
Lennon-Ritchie established her own agency The Lennon-Ritchie Agency in 2013. She will continue to represent authors and publishing rights separately under that banner; the authors who also work as screenwriters will now be represented by Torchwood.
"We want to take South African storytellers to the world and nurture careers locally," said Lennon-Ritchie and Kayser in a statement. "That means working with the funders and broadcasters to uplift deals and encourage a reinvestment in the industry so that writers can afford to be writers, to have space to hone their craft and become the best they can so that South Africans can tell their own stories.
"We hesitate to say now is the time – because we're long overdue for equal and diverse representation – but the world is waking up to the need to hear stories from people of colour, and stories from Africa and her diaspora."
"South Africa has one of the biggest screen industries on the continent," added Kayser. "I have long had my eye on returning with the view to talent rep in this country as there are no other literary agents in the region."