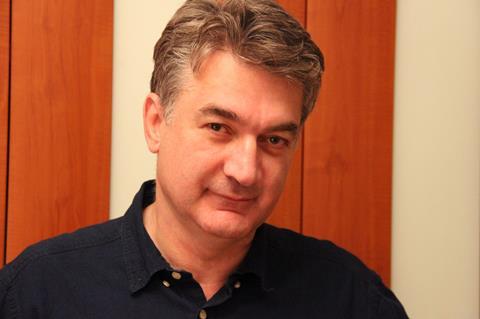 Gaga Chkeidze, who was dismissed as director of the Georgian National Film Centre (GNFC) last month, has spoken out about his removal, claiming it is part of a wider campaign of cultural censorship in the country.
Chkeidze was suddenly dismissed from his position in mid-March by Thea Tsulukiani, the country's minister of culture and deputy prime minister, shortly before his three-year term was to expire. The ministry cited alleged financial irregularities following an internal audit of the GNFC as the reason behind the removal.
However, speaking to Screen, Chkeidze said the audit was finalised as early as September 2021, in which no such violations were mentioned, and believes the GNFC's recent public calls for the government to condemn the war in Ukraine may have sparked the move.
"If indeed there were such irregularities discovered, why wasn't I dismissed earlier?," he said.
Chkeidze's removal came shortly after the GNFC posted on Facebook on March 6 that the ministry should freeze a contract with Russia's state film archive Gosfilmofond, in response to Putin's invasion of Ukraine. Nearly $150,000 had been allocated to the Russian organisation to produce fresh prints of eight classic Georgian films.
"I previously wrote directly to the minister to suggest this but never got a response," said Chkeidze. "We had already paid the first instalment of $52,522, which was intended for purchase of film stock from Kodak, but Gosfilmfond never informed us if they bought it.
"We assumed they were not able to because of sanctions against Russia, so it makes no sense to keep this going, especially as this money would go to Putin's regime and fund his aggression on Ukraine."
While still GNFC director, he suggested investing the funds in local film production and said: "In Georgia, you could make five documentaries with this funding."
The Facebook post also included a request to the ministry of culture to publicly express solidarity with Ukraine, as it had not done so despite the destruction of numerous cultural sites during the ongoing conflict.
Open letter
Chkeidze claims his dismissal is part of a wider campaign against culture in Georgia and said Tsulukiani is aiming to impose censorship on cultural organisations in the country and for the GNFC to only fund films with patriotic themes.
"I am not alone in this," he said. "She has fired dozens of people from various cultural institutions in her first year as minister of culture. This reminds me of Soviet times, when every institution had its own 'yacheika' – a committee of the communist party which was really calling the shots."
Screen contacted Georgia's ministry of culture for comment. It responded to state that the audit has been sent to the public prosecutor's office for examination and would not comment further. Chkeidze is preparing his own lawsuit against the Ministry.
In solidarity, 400 Georgian filmmakers have signed an open letter to protest against Chkeidze's dismissal with signatories including Salome Jashi, whose Taming The Garden premiered at Sundance in 2021; Nana Ekvtimishvili, the award-winning director of My Happy Family and In Bloom; and Alexandre Koberidze, who won the Fipresci award at the Berlinale in 2021 with What Do We See When We Look at the Sky.
"We do not understand the reason for the early dismissal of the head of GNFC," said the letter. "Instead of supporting the film industry… the ministry of culture acts destructively, attacks, destroys and damages the independent industry, hinders filmmaking as a free art form and introduces division among colleagues." (See below for letter in full)
Minister's "disappointment"
Tsulukiani was appointed minister of culture, sport and youth for Georgia in March 2021, after serving as an MP for the ruling Georgian Dream party and was minister of justice for eight years. The party was established by billionaire Bidzina Ivanishvili, who retired after serving as prime minister from 2012-2013, and whose hobby of collecting trees for his private garden was the subject of Jashi's award-winning documentary Taming The Garden.
"I've met Tsulukiani only once before, when she was still a member of parliament," said Chkeidze. "She immediately started talking about Taming The Garden. She was not happy with the statements Jashi gave at festivals and in the media, telling the story of the film.
"Tsulukiani was disappointed that GNFC funded this film. I had to explain who was on the commission and how the decision was made, even though this was before I came to the film centre in 2019. By then the film was already in post-production."
After Chkeidze was dismissed, Tsulukiani appointed her ministry of culture deputy Karlo Sikharulidze as the head of GNFC. Sikharulidze previously served as ambassador to China, Italy and Czech Republic, and has no prior experience in the film industry.
"It makes no sense that the person at the ministry of culture who should be overseeing the work of the film centre also acts as its head," said Chkeidze.
Chkeidze was appointed in 2019, after 11 candidates applied for the position, and was selected by a committee of 14 film professionals, artists and culture workers. This time around, there was no such process.
Chkeidze said he has sent numerous emails to Tsulukiani in the past year to discuss various issues around the funding of Georgian films but has never received a reply. A leading concern has been its production budget of $1.6m, which the GNFC awards to projects and has not increased since 2019.
"Georgian filmmakers have been able to achieve a lot at international festivals despite such low funding," he says. "We also have Georgian films in regular theatrical distribution and on streaming services. But all this success is now endangered."
Open letter in full
Open letter from the representatives of the Georgian film industry in response to the dismissal of the director of the Georgian National Film Center Gaga Chkheidze by the Minister of Culture Thea Tsulukiani.
Despite the recent painful processes in the state cultural policy, it was totally unexpected and surprising when the minister of culture Thea Tsulukiani dismissed the head of Georgian National Film Center, Gaga Chkheidze.
The Georgian National Film Center (GNFC) is a legal entity of public law under the Ministry of Culture and Monument Protection, established on the basis of the Law of Georgia on State Support for National Cinematography approved on December 5, 2000 and brought into effect in April 2001.
GNFC has been independently defining the country's film policy for years. Even with limited funds it has supported Georgian cinema to establish itself and create exciting, important and successful films and projects on local and international levels.
Today, GNFC is one of the most important and distinguished organisations in Georgia, which, since its establishment, has promoted the development of the independent artistic space by supporting film production and other activities that contributed to the development of the film industry in the country. Independent juries appointed on a rotational basis have been selecting and approving subsidies for projects that are diverse in topic and form, reflect upon various social shifts, and respond to actual processes. Never have political or other affiliations obstructed the selection process.
We do not understand the reason for the early dismissal of the head of GNFC, whose contract was due to expire in mid April 2022 anyway. We also do not understand the slander targeted at him and the threat of the State Prosecutor's Office, mentioning allegation of criminal offence, using the report of internal audit as a pretense.
Unfortunately, this unsubstantiated order from the Ministry obstructs the healthy process of constructive criticism among professionals and hinders us from contributing to this significant creative industry and responding to its real needs.
Thus, while decisions are made based on political bias, it will be difficult to remain constructive. Our attention is diverted away from our real professional work while the energy of GNFC employees has been wasted on accommodating the needs of audit determined to find flaws in organisation since April 22, 2021. Incidentally, the intermediary report of the audit did not mention any serious violations.
It is crucial for us to sustain GNFC and support its development, its work with local and international organisations such as Eurimages, EFP – European Film Promotion, FNE – Film New Europe, etc. However, appointing the Deputy Minister of Culture as the new head of GNFC makes us fear that the Ministry is making steps to subjugate, control and dismantle the established system to impose censorship over our projects, films and ideas.
Instead of supporting the film industry, raising its minor funding capacity, supporting ideas such as fostering the creation of municipal cinema, the Ministry of Culture acts destructively, attacks, destroys and damages the independent industry, hinders filmmaking as a free art form and introduces division among colleagues.