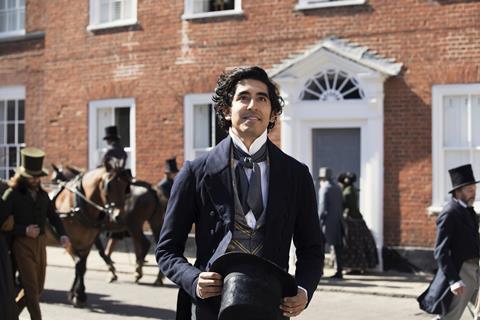 Fox Searchlight Pictures has acquired North American rights to writer-producer-director Armando Iannucci's The Personal History of David Copperfield ahead of the film's world premiere at next month's Toronto festival.
Searchlight, which did the rights deal with international seller FilmNation Entertainment, is planning a 2020 theatrical release for the film, also set to open the BFI London Film Festival in October.
Iannucci's take on the classic Charles Dickens story stars Dev Patel, Tilda Swinton, Hugh Laurie, Peter Capaldi, Ben Whishaw and Paul Whitehouse. Iannucci co-wrote with Simon Blackwell and produced with Kevin Loader and the film was financed by FilmNation and Film4.
Fox Searchlight chairmen Nancy Utley and Steve Gilula said: "Armando Iannucci is a wonderfully original filmmaker and expert storyteller; he brings his irreverent and imaginative take to this iconic and beloved story."
Iannucci and Loader added: "We are so pleased that Fox Searchlight's early enthusiasm for this movie has paid off, and we're excited by their plans to bring it to as wide an audience as possible in North America. We're all proud of this film, and with Fox Searchlight, we have the right fit: we can't wait to get started."