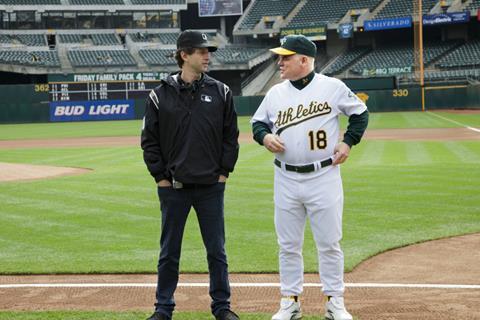 The fickle nature of the film business was one of the subjects covered by Academy Award-nominated director Bennett Miller during a talk to emerging Arab and international filmmakers in Doha on Monday (13 March).
"Do not wait for approvals. It won't happen. Follow your vision of what you want to do, and don't give up on what you are doing," said the US filmmaker, best known for Capote, Moneyball and Foxcatcher.
Miller was participating in a Masterclass as part of the Doha Film Institute's Modern Masters series at the fourth annual Qumra event.
He was speaking in reference to his experience on his debut feature, the 1998 documentary The Cruise, a portrait of impassioned, eccentric New York City tour guide and his debut feature film.
Four years in the making, it was turned down by every festival to which Miller submitted it, including Sundance and Berlin. When critics raved about it following its premiere at a small, independent Los Angeles festival, thanks to a friend to whom the festival owed a favour, those A-list events suddenly interested. The Cruise went on to screen at Berlin and Toronto among others.
It happened again following his second feature, Capote, starring Philip Seymour Hoffman, in 2005. Buoyed by the success of that film, Miller believed he could get his Foxcatcher project off the ground. "I couldn't get it made," he recalls. "I was surprised by that following [the success] of Capote. But I realised I can do anything - as long as it is something someone else wants to do."
He went on to make Moneyball first in 2011, starring Brad Pitt, followed eventually by Foxcatcher in 2014.
Miller, who described himself as an introvert, revealed why there had been a long period in between his features.
"Some people are really energised by making a film. Some are exhausted," he said. "I am exhausted. I think, 'Oh God, I am never doing that again'. To make a film the amount of control you have to conjure to do it is, …. it's a slightly different person. Sometimes in the edit, I'll hear my voice off camera and I'll cringe. I'll think, 'Who is that person torturing those actors?'"
Miller's next project is a documentary series of which few details are known. He plans to follow this with an adaptation of Charles Dickens' A Christmas Carol, written by Tom Stoppard. He promised the latter will be the most faithful version of Dickens' novel yet to be made.
Qumra runs from March 9-14. The other filmmakers and craftspeople in the Modern Masters series are directors Gianfranco Rosi, Apichatpong Weeraethakul and Andrey Zvyagintsev, costume designer Sandy Powell and actor Tilda Swinton.