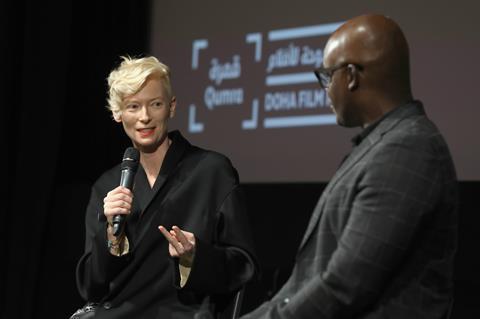 Tilda Swinton kicked off a masterclass in Qatar on Friday with the surprising admission that she has been trying to quit acting for the best part of 20 years, to focus instead on her first love of writing and other projects.
"I don't have a sense of myself on screen at all and I think the reason for that is that I never intended to be on screen and honestly I never do," Swinton said. "Every film I make, I intend to be the last. I have other stuff to do that I am not getting on with. I am constantly getting distracted by these amazing conversations I have with my friends that lure me back."
The actress – whose 70-odd feature credits include Orlando, her Oscar-winning supporting actress performance in Michael Clayton, We Need To Talk About Kevin, Only Lovers Left Alive, A Bigger Splash, and Okja as well as A Bigger Splash director Luca Guadagnino's Suspiria remake, which is in post – was speaking at a masterclass during the Doha Film Institute's talent-development event Qumra (March 9-14).
Swinton is one of six so-called Qumra masters this year alongside documentary director Gianfranco Rosi and Thai filmmaker Apichatpong Weerasethakul brought in to mentor and inspire the participants.
The actress explained she attended Cambridge University in the early 1980s with the intention of becoming a writer and had fallen into acting by chance.
"I came from the world of art and from the world of writing," she told moderator Cameron Bailey, artistic director of the Toronto International Film Festival. "I was a writer, went to university as a writer, got in as a writer and instantly stopped writing, which apparently happens all the time. Instead, I found myself being drawn into performing with friends in theatrical production."
Derek Jarman: the mentor
She continued to dabble in acting after graduation but had been on the cusp of ditching the profession altogether when the late UK director Derek Jarman cast her in his 1986 film Caravaggio.
"I was at the point of giving it up completely and realising it wasn't for me when I met Derek Jarman who changed absolutely everything for me," Swinton said.
The actress spoke warmly of Jarman's collaborative and boundary-pushing approach and his place as a major disruptive, cultural figure in the UK in the 1980s and early 1990s.
"He was the first person to really take Super-8 and blow it up to make a big feature film. I found myself working in this sort of public kindergarten atmosphere," she said, adding that costume designer Sandy Powell, another Qumra master this year, had also got her feature break on Caravaggio.
"She and I were kindergarten babies together. She had just come from art school and I'd just started making films. We worked in this completely pre-industrial, ramshackle way."
Politically engaged
Swinton noted that her early days in cinema coincided with a particularly politically engaged time for the UK's independent filmmaking scene, mainly in opposition to the free trade, small state, anti-homosexual policies of then Prime Minister Margaret Thatcher.
"We were all political people. That was one important thing that held us together and we were very clear that our work was political."
As an example, she highlighted Jarman's 1991 production Edward II – a contemporary adaptation of Christopher Marlowe's play focusing on the presumed homosexuality of the 14th-century king – as a reaction to the introduction of the controversial Section 28 clause banning local councils from "intentionally promoting sexuality". The law was repealed in 2000.
"We went out of our way to make an adaptation," she said. "We worked in outrage."
She also recalled how that period was particularly vibrant on a creative level for independent film in the UK, in part due to the sustained support of the old-style British Film Institute (BFI) for independent film directors at that time.
"They would give us maybe £200,000 to make a feature film. That wasn't much but the idea was that they would be there for the next five films. That's what we want as artists. We want people to want us not just for one project and not for just some kind of potentially profit-making product.
"We want our voices and development invested in and that's what the BFI was doing with people like Derek, Sally Potter, Ron Peck, Peter Greenaway and Terence Davies," she continued. "There was a sort of core of cultural filmmakers funded by the BFI and then there was a semi-industrial side represented by the likes of Merchant Ivory and even David Lean."
The art of conversation
Swinton said her early filmmaking experiences with Jarman continued to inform her choices of projects and directors, who have included Tony Gilroy, Jim Jarmusch, Ethan and Joel Coen, Luca Guadagnino, and Bong Joon-ho.
"When I make films, I make films in conversation with filmmakers," she said. "I want to work with really communicative filmmakers who are interested in this kind of work, this kind of dynamic. I was lucky enough to find someone who wanted to do it. But after [Jarman] left the building… to find more of these filmmakers who wanted to work in the same way, it's been a real blessing."
Swinton made seven films with Jarman over a nine-year period, including War Requiem, The Garden and The Last Of England.
"When he died very sadly in 1994, I thought, 'Well, that's that, I will get on with my life as a writer.' But then people started to draw me into further conversations and on it's gone for 30 years. It hasn't stopped and I am still distracted."
In one word
At the end of the masterclass, Bailey playfully asked Swinton to sum up her past directors in one or two words. Here are her replies:
Lynne Ramsay: "Anarchic."
Mark Cousins: "Enthusiast."
Sally Potter: "Cheeky."
Luca Guadagnino: "Cinema literate."
David Fincher: "Exhaustive."
Bela Tarr: "Magical."
Bong Joon-ho: "Visionary."
Wes Anderson: "Meticulous."