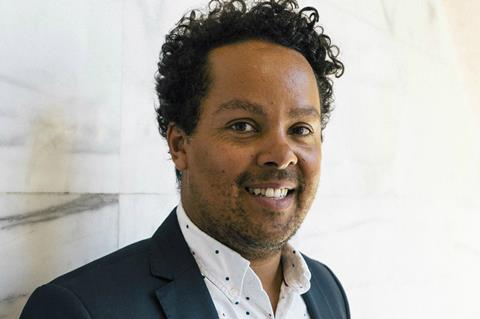 Frameline, the queer media showcase, has announced the appointment of Paul Struthers as director of exhibition and programming.
Struthers will oversee the curatorial vision and execution of Frameline's exhibition programmes, special events, the Frameline Completion Fund, and the signature San Francisco International LGBTQ Film Festival that celebrates its 42nd anniversaey next year and runs from June 14-24.
Originally from the UK, Struthers brings 13 years of experience to Frameline, and has served in a multitude of industry roles in the UK and on the film festival circuit in Australia. He will relocate to the Bay Area to begin his tenure on December 1.
Struthers was the festival director for the Queer Screen's Mardi Gras Film Festival from 2014-2017 and Queer Screen Film Fest from 2014-2016, where festival attendance increased threefold under his watch. He also ushered in programming that explored a broader representation of queer lives.
Simultaneously Struthers worked in marketing for the Sydney Film Festival, where he created targeted campaigns around individual film programmes. Prior to Struther's festival career, he worked in London for five years in distribution, exhibition, and film sales, including positions with Revolver Entertainment and Renaissance Films.
"After an extensive national and global search, Paul stood out with his exceptional industry experience and sheer passion for film and queer programming," Frameline executive director Frances Wallace said. "Struthers comes with a commitment that is unmatched, in terms of artistic vision, an energy focused on social justice content, and a dedication to extend audience and queer representation. His appointment to Frameline is in perfect alignment with the organization's trajectory to increase the impact of queer media worldwide."
Frameline board president and AT&T Global Enterprise Solutions Sales vice-president Michael Colaneri said: "Struthers stands in a unique and invaluable place, having worked in both community and industry environments."
"He has a global LGBTQ film perspective and comes with outstanding collaborative skills to link audiences and partners alike in building support for the exhibition of queer media across multiple platforms. Paul is an authentic connector, with a trusted and respected international reputation that will help propel Frameline's mission into the future."
Struthers said: "I'm thrilled to be joining Frameline and working with Frances and the exceptional team. Frameline is an organisation that has always inspired me in their world-leading approach to showcasing queer cinema. I look forward to continuing and building upon this amazing legacy."