The film still shows a naked therapy session between Jérémie Renier and Marine Vacth.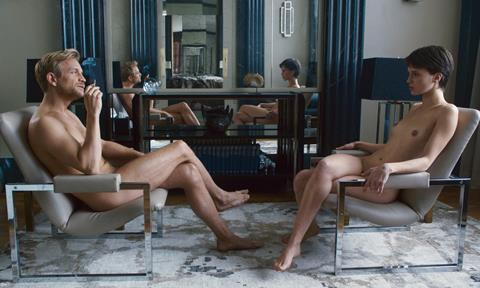 French director François Ozon has unveiled a provocative first image of his upcoming erotic thriller Amant Double, co-starring Jérémie Renier and Marine Vacth.
Model turned actress Vacth stars as a fragile young woman who falls in love with her psychoanalyst, Paul. She moves in with him but soon discovers that her lover is concealing part of his identity.
Ozon posted an image on his Twitter account late Wednesday of Vacth and Renier sitting naked in what appears to be a scene depicting a therapy session.
It is Vacth's second collaboration with Ozon after her big screen debut in the Young & Beautiful, in which she played a teenager who dabbles in prostitution. Renier previously appeared in Ozon's Criminal Lovers and Potiche. Jacqueline Bisset is also in the cast.
The film, which is sold internationally by Paris-based Films Distribution, is scheduled to have a theatrical release this autumn.