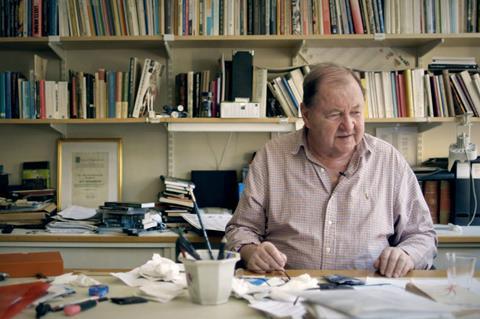 Archer's Mark and Studio 24 are collaborating on a feature-length documentary exploring the life and work of acclaimed Swedish auteur Roy Andersson.
Fred Scott will direct Being A Human Person and has been working on the film for the past two years, gaining unprecedented access to Andersson on the set of his sixth and final feature film, About Endlessness.
Mike Brett, Steve Jamison and Jo-Jo Ellison, the team behind BAFTA-nominated Notes On Blindness, produce for Archer's Mark. Andersson's longtime collaborators, Pernilla Sandström and Johan Carlsson, will co-produce for Andersson's Studio 24.
Brett and Scott will pitch the project at IDFA's Forum on November 20.
Scott said, "Roy is quite simply the first and last of his kind – a quiet, bona fide genius in an industry awash with hyperbole and hype. As such, it's an absolute privilege to collaborate with him on this film about the people, processes and vulnerabilities that orbit his world.
"Our primary gaze is toward the mercurial side of the human condition that has fixated Roy's storytelling for the last 50 years, as he enters what we now know to be the creation of his final feature film."
The film follows Andersson as he makes About Endlessness, and examines the auteur's contributions to cinema through films like A Swedish Love Story, Songs From The Second Floor, and his Venice Golden Lion winner A Pigeon Sat On A Branch Reflecting On Existence. It also looks at the philosophical angle of a master accepting that he is making his final feature.
Andersson said: "I'm really looking forward to see what Fred will do with the material he has shot. He is so meticulous, ambitious and also sensitive – it will be very interesting to see the end result."
Scott is a filmmaker based in London who earned a Grammy nomination for Mumford & Sons: The Road To Red Rocks. He has also directed commercials for brands including Stella Artois, Barclays, and Vodafone.