Second biggest annual box office since 1966 in year dominated by Disney.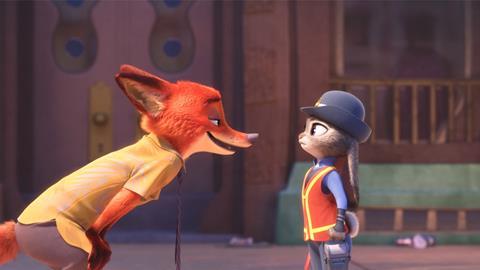 French cinema admissions rose 3.6% in 2016 to 213 million in a year dominated by US animation and action pictures, according to preliminary figures released by France's National Cinema Centre (CNC) in its final box office report of the year.
It was France's second highest number of theatrical entries in 50 years, since 2011 when admissions topped 217 million and the third consecutive year in which the number of spectators exceeded 200 million.
The box office is traditionally calculated as number of admissions in France with tickets costing an average €6.70 in 2016.
Disney domination
US animation and action pictures dominated the box office chart with Disney in particular making its mark.
Disney's Zootopia topped the top ten chart with 4.8m admissions followed by Moana. Re-named Vaiana, La Légende Du Bout Du Monde for the French market, Moana has generated 4.6m admissions since its release there on Nov 30.
Rogue One: A Star Wars Story also slipped into the top ten in the final week of 2016 drawing 3.9m entries in its first three weeks on release.
No single film garnered more than five million admissions unlike in 2015 when Star Wars: The Force Awakens drew 10.5m spectators, followed by Minions with 6.5m entries and Jurassic World with 5.2m.
The country's national cinema federation, the FNCF, said last year's stellar performance was all the more remarkable given the absence of films drawing more than five million spectators.
"The admissions were less concentrated and spread out over a greater number of films," the FNCF said in a statement."This has never happened before in a year in which there have been more than 200 million entries."
It noted 700 new films were released theatrically in France in 2016.
French Cinema, the year of comedy sequels
It was a mixed year for French cinema.
Mainstream comedies and dramas performed well but there were no significant art-house breakouts.
Admissions for local films rose 3% year-on-year to 75m with 18 local films drawing more than one million spectators, to give local cinema a 36% share of the market.
Comedy sequel Les Tuche 2 (4.6m), following its lottery-winning protagonists to the US, was the only French film to make it into the overall top ten for 2016 with 4.6m spectators.
It was among a number of comedy sequels dominating the French releases chart alongside Camping 3 (3.2m), The Visitors: Bastille Day (2.1m) and Brice 3 (1.9m).
Sy pulling power
Proving his box office pull, two films starring Omar Sy featured in the French top ten.
Family comedy-drama Two Is A Family, in which Sy plays a single dad confronted with the return of his daughter's mother, has drawn 2.1m spectators since its release in October and is still going strong. Bio-pic Chocolat, in which Sy starred as France's first black circus performer, generated 1.9m entries.
Other dramas performing well included Irreplaceable (1.5m), starring Francois Cluzet as a country doctor, and Jérôme Salles's Jacques Cousteau bio-pic The Odyssey (1.2m) while Jacques Perrin and Jacques Cluzaud's documentary Seasons drew one million spectators.
Auteur pictures
Auteur pictures had a tougher time, both home-grown and from abroad.
Alongside The Odyssey, Xavier Dolan's Until The End Of The World was the only other festival hit to make it into France's overall top 50 with just over one million admissions.
That said, a handful of established auteur directors enjoyed strong box office performances in France.
UK director Ken Loach's I, Daniel Blake generated just under 900,000 admissions for Le Pacte while Bruno Dumont's Slack Bay drew 560,000 spectators for Memento Films Distribution to make it his most successful French release ever.
Paul Verhoeven's Elle garnered some 550,000 entries and could see a revival if its lead actress Isabelle Huppert proves successful at the Golden Globes or the Oscars in the best actress category.