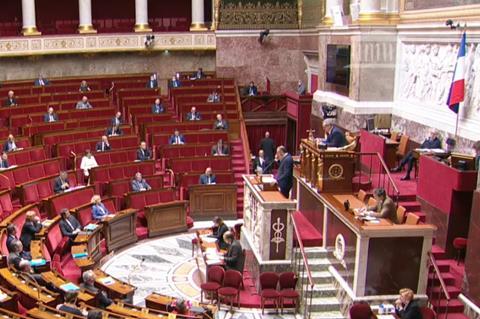 French cinemas, along with large museums, theatres and concert halls, will remain closed until at least June 2, under a government plan to progressively lift a national lockdown put in place in March to slow the spread of Covid-19.
France's prime minister Edouard Philippe made the announcement in a televised presentation to the French parliament on Tuesday of his government's strategy to progressively ease restrictions in the country.
In a decision that could have implications for the Cannes Film Festival, Philippe said large cultural and sporting events would remain banned until September at the earliest.
The festival was forced to cancel its scheduled May 12-23 dates and abandon plans for a end-June start due to the lockdown. It has yet to unveil details on further plans.
"Big museums, which attract large numbers of visitors, cinemas, theatres and concert halls will be in the same position as enclosed places and cannot open while community halls and restaurants will also remain closed at least until June 2," said Philippe.
"I'd also like to specify that big sporting and cultural events, like festivals, and professional salons, gathering more than 5,000 people, will not be able to take place before the month of September."
France's 66-million population has been under a strict lockdown since March 17. Public spaces including cafes, restaurants and the country's some 6,000 cinemas were ordered to close three days earlier on March 14.
At present, only food shops, pharmacies, banks and petrol stations are open. Religious establishments were also permitted to stay open but are not allowed to gather people for services.
Philippe said the government intended to take a "progressive, cautious and resolute" approach to lifting the lockdown over the coming weeks and months.
He said a first phase, scheduled to begin on May 11 and run to June 2, would only kick-off if the rate of infections was at a satisfactorily low level, of around less than 3,000 cases nationally a day.
He added that the lifting of restrictions would only take place in locations where the virus appeared to be under control and there was no pressure on local hospital services.
The first phase of easing would involve the opening of shops and schools for younger pupils, with strict social distancing protocols in place. It would also allow people to move freely within a radius of 100km of their homes. Philippe said that inter-regional travel would only be permitted for professional or family reasons.
A decision on how France will manage its traditional summer holiday season would also be made in June. In the meantime, the country's beaches will remain out of bounds until June 1.
In further measures, Philippe said the government was aiming to open 70% of the country's public transport system on May 11 but that the wearing of masks would be obligatory and that there would be limits on the numbers of passengers allowed to travel at any one time.
Philippe added the country's efforts to reopen would be accompanied by a massive testing programme with a target of 700,000 tests per week. Any person found to be infected with the virus could either self-isolate at home with their families or stay in quarantine centres that the government planned to set up in requisitioned hotels.
He said the government would assess whether and when public spaces such as cafés, restaurants, cinemas, theatres and concert halls could be opened in the second phase beginning June 2.
Moves to ease the lockdown come amid signs that the spread of Covid-19 is slowing in France. According to health ministry figures for April 26, 242 people had died in the previous 24 hours. To date, there have been 22,856 Covid-related deaths in France, 14,202 in hospital and another 8,654 in care homes.
Along with much of the French population, cinema professionals across the production, festival, sales, distribution and exhibition chain will have been monitoring Philippe's speech.
Scores of film and TV shoots are currently suspended in France, while exhibitors and distributors fear even when cinemas are able to open their doors again, it will take time for audiences to return.
Some 60 features were in French cinemas when they shut down on March 14 while another 60 titles were due to be launched in the six-week period since.
As a temporary measure, the government gave the National Cinema Centre emergency powers to modify the country's strict media window laws for films impacted by the cinema closures.