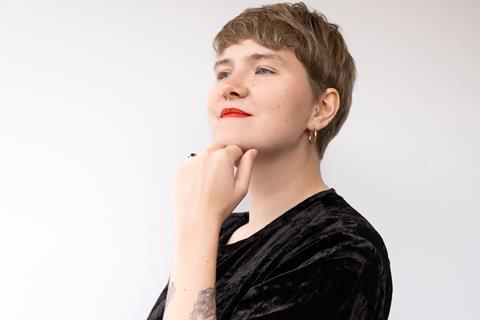 French director Camille Degeye has won the second €5,000 ($5,601) Cannes Critics' Week Next Step prize, for her debut feature project Sphinx.
The drama is about a young medical intern who is excluded from the neurosurgery department where she works. She finds a job as a medic for a trendy Paris nightclub, where she embarks on a passionate love affair with an enigmatic figure on the Paris drag queen cabaret scene.
Spearheaded by outgoing Critics' Week manager Rémi Bonhomme, the Next Step initiative was launched in 2014 to help directors of shorts that premiere in its selection progress to their first feature, primarily through a five-day development workshop at the Moulin d'Ande in Normandy and Paris in December.
Degeye's short film Journey Through A Body, about a Swiss-German musician who is stuck at home in his tiny Paris flat because of a broken foot, premiered in the shorts competition in Critics' Week in 2019.
Other directors taking part in the 2019 edition of Next Step included Pia Borg (Australia), Michael Borodin (Russia), Andrias Høgenni (Feroan Islands), Valentina Maurel (France / Costa Rica), Johanna Pyykkö (Finland / Sweden), Nada Riyadh (Egypt), Adi Voicu (Romania) and Yorgos Zois (Greece).
The 2020 participants will be announced in the coming months.
The Next Step prize was launched in 2019. Finnish director Mikko Myllylahti, who co-wrote Un Certain Regard winner The Happiest Day In The Life Of Olli Mäki, won the inaugural award for The Woodcutter Story last year.
Alongside the cash prize, the award includes an invitation for Degeyes to attend the 2021 edition of Cannes Critics Week. The parallel section, which was forced to cancel its physical edition this year due to the Covid-19 pandemic and has just announced a special 2020 label selection.
To date, Next Step has 55 projects from 29 territories to date.
A trio of past projects are due to hit the festival circuit imminently, beginning with Brazilian director Joao Paulo Miranda's Memory House, which has just been selected for the special Cannes Film Festival 2020 label, and also including Filippino director Carlo Francisco Manatad's Whether The Weather Is Fine and Rio Doce by Brazilian filmmaker Fellipe Fernandes, who previously collaborated with Kleber Mendonça Filho as his assistant director.
Films due to shoot in 2021 include The Woodcutter Story, French director Elias Belkeddar with Requiem Pour Un Fou, revolving around a jaded gangster who tries to conquer the Algiers underworld, and Chilean director Felipe Gálvez with The Settlers, exploring 19th-century massacre of the native Ona people in the Tierra del Fuego islands.