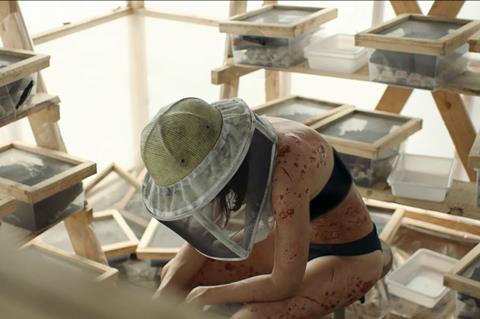 Cannes Critics' Week has unveiled the five features and ten shorts selected for its special 2020 Semaine de la Critique label, created in response to the fact that its 59th edition could not take place this year due to the Covid-19 pandemic.
Four of the five features hail from France with UK-Pakistani filmmaker Aleem Khan's After Love the only non-French title in the selection.
Three of the French selections are first films: Anna Cazenave Cambet's Gold For Dogs, Chloé Mazlo's Skies Of Lebanon and Just Philippot's The Swarm. They are joined by Naël Marandin's second feature Beasts.
The Cannes parallel section, devoted to first and second time features and shorts by emerging filmmakers, was in the final stages of tying up its selection when France went into a two-month lockdown on March 17, to slow the spread of the virus. Its 59th edition was due to run May 13 to 23.
In 2019, the section screened 11 features, seven in Competition and four Out of Competition, including Jérémy Clapin's winning animated film I Lost My Body, which went on to be Oscar-nominated, offbeat Moroccan comedy-drama The Unknown Saint and sci-thriller Vivarium.
Under the Cannes Critics' Week 2020 label, each of the films will receive a tailormade support programme over the coming months as they make their way onto the festival circuit and into cinemas.
The French films will also be presented at the Angoulême Francophone Film Festival, scheduled to take place August 28 to September 2, under the banner of "La Semaine de la Critique carte blanche".
French focus
Artistic director Charles Tesson explained that the parallel section had decided to focus mainly on French productions after consulting the teams involved in the films in the running for a slot in the physical edition.
"In a context where decisions are grueling we decided to favour French films that were scheduled to be released in France before the next Cannes festival," he wrote in an editorial accompanying the selection announcement.
"As for the various foreign films that grabbed our attention - many of which don't have a French distributor nor international sellers yet - most preferred to wait for festivals that could take place under usual circumstances, including the next Cannes edition. It is quite understandable since these films, which were unknown until now, direly need the dark theatres for their work to shine bright."
All five selected features will be eligible for a €20,000 ($22,414) distribution prize awarded by France's Gan Foundation for Cinema.
Feature selection
Inspired by his mother, Khan's After Love stars Joanna Scanlan as an English woman who converts to Islam but struggles with her identity when her husband dies and she discovers a secret family in Calais.
"Contrasting with the realism of British cinema, the film pursues the unambiguous storyline of a beautiful melodrama: a double-edged family drama," wrote Tesson.
It is produced by Matthieu de Braconier of London and Paris-based outfit The Bureau and is backed by BBC Films and the BFI. The Bureau Sales is handling sales.
Cambet's Gold For Dogs stars rising actress Tallulah Cassavetti as a young drifter who takes refuge in a convent where becomes fascinated by a young woman who has taken a vow of silence. It is produced by CG Cinema and WTFilms are handling sales.
The filmmaker won the Cannes Queer Palm for a short film in 2016 for Gabber Lover which premiered in Official Selection as part of the Cinefondation competition.
"Cambet's first film radiates, it glows; between light and darkness, it follows the journey of a young woman, Esther, left to her own devices in her longing for the other."
Mazlo's Skies Of Lebanon stars Alba Rohrwacher and Wajdi Mouawad as a Swiss and Lebanese couple whose happy family life in Beirut comes under threat when civil war breaks out. The Arab and French-language feature is produced by Moby Dick Films and Ad Vitam has taken French rights.
Mazlo, who studied graphic design before turning to film, won the César for best animated short for her work The Little Stones in 2015. This live-action feature debut is loosely inspired by the lives of her parents who hailed from Beirut but left during the war. Charades handles sales.
"The mise-en-scène ofSkies of Lebanon is wildly ingenious and truly subtle. Blending animation and live-action, it gives us an enticing taste of the outdated, eccentric imaginary world of postcards," said Tesson.
Philippot's The Swarm is a fantasy drama about a woman who develops an obsessional bond with grasshoppers she is breeding as a high-protein crop.
The director's short Acide, about an acidic cloud which passes over a country spreading panic, played in Sundance's international shorts competition in 2019. This debut feature is produced by Capricci and Manuel Chiche's The Jokers Films. Wild Bunch is selling the title internationally.
"Just Philippot's first film builds on a very recognisable film genre (the fear of animal invasions, inspired by The Birds) and adds another storyline, that of a young woman," wrote Tesson.
Naël Marandin's farming community-set drama Beasts stars Diane Rouxel and Finnegan Oldfield as a young couple with ambitions to expand the family farm, who find themselves at the mercy of an influential but unscrupulous local figure whom they turn to secure funds. It is lead produced by Diligence Films and Kinology handles international sales.
Tesson praised the performance of the cast which also features Jalil Lespert and Olivier Gourmet. "The story is wonderfully told, the strong characters are played by very fine actors. One of them stands out particularly, Constance, played by the marvellous Diane Rouxel."
The ten shorts, the selection of which was overseen by Léo Seosanto, are more diverse in their origin and include works from Canada, Azerbaijan and the United States.
They are due to be showcased at FestivalScope Pro and Festival Scope in October. There will be previews at the French Cinematheque as well as screenings at the Czech Cinematheque and in New York City in collaboration with Kinoscope.
"We all have this secret longing for cinema to change the world. The coronavirus crisis turned that fantasy upside down with surgical precision: the world changes cinema, it has emptied movie theatres, cancelled festivals, stopped all film shoots on their tracks and forced us back into our homes to watch films online," commented Seosanto.
"Once we got over this shock, we had to pursue our mission to champion young filmmakers. By supporting ten short films, we are working towards getting back to 'business as usual' but we know perfectly well that things will never be quite as they were as 'quarantine', 'social distancing' and 'lockdown' are now part of our paradigm. As we are writing these lines, the arts seem to be the last thing on our governments' minds, here there and everywhere, our support to those to ten international filmmakers seems all the more important."
Cannes Critics' Week 2020 label
Features
After Love, Aleem Khan
Beasts, Naël Marandin
Gold For Dogs, Anna Cazenave Cambet
Skies Of Lebanon, Chloé Mazlo
The Swarm, Just Philippot
Shorts
August 22, This Yea r, Graham Foy
Towards Evening, Teymur Hajiyev
Dustin, Naïla Guiguet
Forastera, Lucia Aleñar Iglesias
Good Thanks, You? Molly Manning Walker
Humongous, Aya Kawazoe
Maalbeek, Ismaël Joffroy Chandoutis
Marlon Brando, Vincent Tilanus
Menarca, Lillah Hallah
White Goldfish, Jan and Raf Roosens