Hybrid children's 3D hit was made using green shooting practices.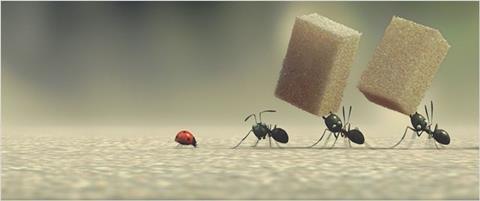 As well as securing critical acclaim, French bug picture Minuscule: The Valley of the Lost Ants (Minuscule: La Vallée des Fourmis Perdues) is also winning praise from local ecologists.
Figures unveiled at the Ile de France Film Commission's Location Expo in Paris revealed the production had reduced its potential carbon footprint sevenfold by employing green shooting practices.
Thomas Szabo and Hélène Giraud's hybrid 3D work combines real-life backdrops with animated insects.
The Minuscule format is already known to millions of young viewers around the world through a popular TV series shown on channels such as BBC Four in the UK, NHK in Japan and the Disney Channel and ABC in the US.
The feature version hit cinema screens in France at the end of January, drawing some 650,000 spectators in the first two weeks on release. It will head to several other international territories in the coming months including the UK where Lionsgate plans to release it in late 2014.
The film was shot in 2011 in France's spectacular Mercantour National Park in the southern French region of Provence-Alps-Cote d'Azur (PACA).
Paris-based production house Futurikon worked closely with Mathieu Tronquit, an ecology and sustainability expert for green-shooting collective ECOPROD, who is employed by PACA to encourage and advise on green shooting practices in the region under an initiative called AGIR.
"My role is get talk to the productions before they shoot and give them technical advice on how they can shoot more sustainably and ecologically," explained Tronquit.
Launched in 2009 with the aim of supporting sustainable shooting practices, ECOPROD unites eight partners including broadcasters TF1 and France Télévisions, the National Cinema Centre (CNC) and the regions of PACA and Ile de France.
"From 2010 to 2013, some 36 productions shooting in the PACA region were given financial and technical support to help them implement green shooting practices under the AGIR initiative," said Tronquit.
These ranged from short films and documentaries to features such as Minuscule, Jacques Audiard's Rust and Bone and Jean Dujardin-starrer Mobius.
"On Rust and Bone, the green practices were initially at the instigation of Marion Cotillard but in the end the production went way beyond her requests and embraced green practices on a number of levels," commented Tronquit.
In the case of Minuscule, the production cut down emissions by lodging the crew in gîtes in the park, so they could walk or bike to the shoot; eating daily at a local farm specialising in organic food, recycling, replacing lights with reflectors where possible, and running its camper van, production hub off solar energy and low-voltage generators.
Overall the production cut its projected footprint of 380 tonnes of carbon to 51 tonnes, making for a seven-fold reduction.
"Shooting in a green way didn't hurt the budget either. Eating at the local farm cost the production more but then it saved on transportation costs because it was closer — it balanced out," commented Tronquit.