The films will skip cinemas and instead launch on digital platforms.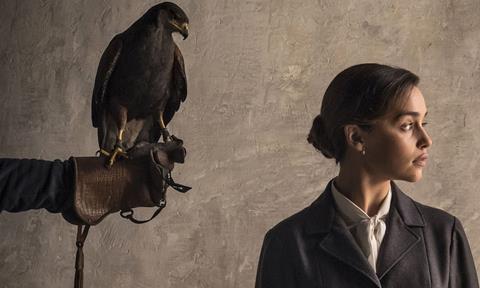 Paris-based Marco Polo Production has acquired Jason Flemyng's vampire black comedy Eat Local for its 2017 slate of films aimed at French digital and broadcast distribution.
Other new acquisitions include Gerard Butler-starrer A Family Man (aka The Headhunter's Calling); the upcoming biopic Speed Kills starring John Travolta as murdered speed-boat maverick Donald Aronow, and Tuscany-set gothic mystery Voice From The Stone [pictured], starring Emilia Clarke.
The company invests around $4m each year in the acquisitions of 15 to 20 mainly action films and genre pictures often with name cast attached.
Flemyng's directorial debut, reuniting the actor with Lock, Stock and Two Smoking Barrels cast members Dexter Fletcher and Nick Moran and also starring Charlie Cox and Freema Agyeman, is sold by London-based sales outfit GFM evolution.
"It's a lot of fun, very English and the Lock, Stock And Two Smoking Barrels connection is a good marketing angle for us," explained Marco Polo CEO Richard Lechartier, who is currently at MIPTV on the hunt for other new titles.
Eat Local and Voice in the Stone are set for June and July releases respectively.
Release plans
Under the company's distribution model none of the titles will be released theatrically in France.
They will launch instead on digital platforms, followed by a DVD and Blu-ray release through an output deal with Sony Pictures Home Entertainment, and then be given a free-to-air or pay-TV premiere by a local broadcaster.
Lechartier explained the releasing strategy is in part a response to France's strict media chronology imposing a 10 to 12-month gap between a film's theatrical release and its broadcast on a pay-TV channel. This stretches to a 22 to 30-month delay before it can play on free-to-air TV. The lag for VOD is four months and for SVOD, 36 months.
"We're using a different sort of distribution model from most the other distributors in France who still go through a theatrical release. We think our focus on digital, home entertainment and TV is the right one for the sorts of films we acquire and think it could well be the model of the future."
"Theatrical, which means respecting the media chronology, makes business difficult because of piracy and the fact people just don't want to wait two to three years to watch something on TV anymore. That's not how people, and in particular young people, consume content."
"We're finding broadcasters are increasingly interested in features without a theatrical release attached."
Slate
Other future releases include Simon West's action thriller Stratton, starring Dominic Cooper as a secret agent on the hunt for a terrorist cell in London. It will launch with a two-week Premium VOD release on April 5, before going wide and then heading to home entertainment, followed by a TV premiere with a major free-to-air broadcaster in the early summer.
Other upcoming titles include Vengeance: A Love Story, starring Nicolas Cage as a Gulf War veteran seeking revenge on a rapist, due out end-April; anotherCage-starrer, the mob tale Arsenal, which will be released end-May; German director Krystof Zlatnik's topical thriller Immigration Game, about a group of asylum seekers competing in a deadly game for a residency permit; and coming-of-age drama Love Everlasting, starring male model Lucky Blue Smith.
"We're not only focused on action and genre. Sometimes we also acquire movies which have a good marketing concept," added Lechartier. "Immigration Game is a small low budget movie but it's quite nicely done and topical given what's happening in Europe at the moment."
In the case of Love Everlasting, Marco Polo is hoping Blue Smith's rising fame will boost the film and is also in talks with some of the fashion brands he represents for a partnership to support the release.
Other recent acquisitions include Cannes Film Festival jewellery heist tale The Adventurers, starring Jean Reno, Andy Lau and The Assassin star Shu Qi, for France and Belgium, and The Life and Death of John Gotti, starring Travolta as the notorious New York mobster.
Marco Polo was created some 15 years ago by LA-based, French producer Richard Rionda Del Castro, founder of Hannibal Classics and Hannibal Pictures. Initially it focused on releasing Hannibal productions but has since branched out into acquisitions.
Del Castro is the president. Other key executives include associate director Christophe Verneau who oversees sales and marketing.
The company has a library of 350 titles including 28 films by Claude Lelouch.