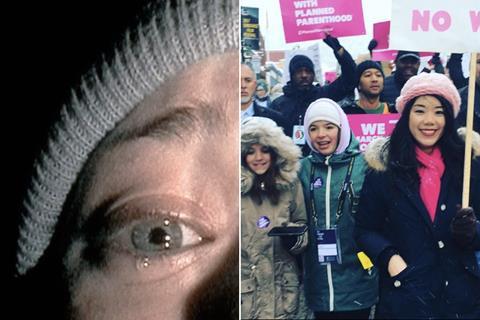 Temperatures may be low but the mood is high in Park City, Utah this weekend, as the in-person Sundance Film Festival returns to the town for the first time since 2020.
The festival kicked off on Thursday (January 19) with a discussion between senior Sundance top brass Joana Vicente, Kim Yutani, John Nein and Eugene Hernandez, who will assume the reins as festival director for the 2024 edition. This was followed by the Opening Night: A Taste of Sundance event attended by guests including honorary awardees Luca Guadagnino, W Kamau Bell, Ryan Coogler and Nikyatu Jusu.
Dakota Johnson drew laughs and gasps from the audience when she presented Guadagnino with his award and joked about Call Me By Your Name. "Luca had asked me to play the role of the peach, but our schedules conflicted," said Johnson. "Thank God, because then I would have been another woman that Armie Hammer tried to eat."
With the festival underway, Screen spoke to attendees about some of their most memorable experiences on the mountain, a sample of which appears below. The festival runs through January 29.
Lizzie Francke, editor-at-large, BFI Film Fund
I was at the world premiere of The Blair Witch Project [in 1999]. I was friends with a programmer who said, "You should go to this and I'm not going to tell you anything about it." There was a level of excitement in the Egyptian Theatre. I was with a row of British acquisitions people – big, serious grown-ups – and we were all so terrified. I remember I thought I was about to see something so terrifying, I was going to die. It was extraordinary – it did that 'lightbulb moment' where you think,"I've never seen this before."
It was a midnight screening so didn't finish until about 2am. I used to have a sofa bed in the Channel 4 women's condo. I was the only girl who'd gone to see it, so I got home and my female colleagues had gone to sleep; I went to sleep. I've been told that all the men went to their condo and checked under all the cupboards and beds.
Gurinder Chadha, director (Blinded By The Light, Sundance 2019; It's A Wonderful Afterlife, Sundance 2010; Bend It Like Beckham, Sundance 2003; What's Cooking, Sundance 2000)
The last time I was here in 2019 the entire theatre was pumped to see Blinded By The Light. I shamelessly played to the crowd, asking "Who's a Bruce [Springsteen] fan?" Everyone's hand goes up. Then I led everyone into "Got a wife and kids in Baltimore, Jack…" [the opening to Bruce Springsteen's 'Hungry Heart'].

Then to top that, the post-screening distributor bidding war. I was in some lodge in god-knows-where with all the people selling the film, and I was asked to come in and listen to pitches from all these distributors. I was going, "Oh my god, I'm never going to work again with whoever I turn down!" I was terrified of upsetting people that I go to for money! I absolutely failed at knowing what to do. It started at $7m with Amazon, then along the way Lionsgate, Fox, others [New Line acquired the title in a then-record $15m deal]. It's a dream to think about it. I wish every filmmaker experiences that love once. That one moment of love will hold you in stead of 10 years of rejection.
Will Oldroyd, director (Eileen, Sundance 2023; Lady Macbeth, Sundance 2018)
I went to the filmmaker brunch which Robert Redford has at the Sundance lodge in the mountains. The true spirit of Sundance is as a laboratory for creative thinking, outside of the industry. And I found myself sitting at a table between Alain Guiraudie, director of Stranger By The Lake, and Taika Waititi, director of What We Do In The Shadows. The conversation, as you can imagine, was very interesting. And that's what I love about the place – you can meet people from all different cultures, different countries, who make very different movies. And they all have this deep passion for cinema and we can share ideas.
Don Argott and Sheena M. Joyce (The Atomic States Of America, Sundance 2012; Rock School, Sundance 2005)
Our first Sundance was in 2005, for a special screening of our first feature documentary, Rock School. The after-party was somewhere on Main Street, where the kids from the film performed. However, the surprise special guest was Alice Cooper, who performed 'School's Out' with the Rock School kids. So much of that night is a beautiful, surreal blur, but we'll never forget that feeling, the feeling of true accomplishment; to have taken a small idea and followed through with it, and you're suddenly in the front row of a private concert watching 13-year-old kids holding their own with Alice Cooper. It was the beginning of this incredible journey we've been on for 20 years now.
Justin Chon, director (Jamojaya, Sundance 2023; Ms. Purple, Sundance 2019)
It was the last screening at Sundance for Ms. Purple. I had a Q&A but I really wanted to go snowboarding. I figured it wouldn't be packed so I got there just in time wearing my snowboard gear and my helmet on my head like an idiot and didn't realise how big the Eccles was. I walked out to a packed audience and felt like an absolute poo-poo head!
Adam Hendricks, producer (M3GAN)
My first Sundance was 2014 - this was a year before I ended up being accepted into the Sundance Creative Producing Lab, which of course changed my life. I got up early to catch Boyhood at the Eccles, and sat next to film critic James Rocchi. After the film, as the lights came up, he turned to me and said, "Take that, Citizen Kane!"Sadly James passed over the pandemic, and that moment has been playing in my mind since his death. I've been looking forward to the fest finally returning, so I can go back to the Eccles and pour one out for James. (Water only! I know the rules.)
Emily Lu Aldrich, PR
One of my favorite Sundance moments was participating in the 2017 Women's March after Trump was elected. It was such an incredible reaction from the creative community. We all came together to show support for each other. Marching down Main Street with all my friends and John Legend behind me was definitely a great shared experience in Park City!
Paul Ridd, head of acquisitions, Picturehouse
Some of my fondest memories at Sundance involve staying up into the early hours for the Midnight Madness films at the Egyptian and Library Theatres, both superb venues to see horror with a crowd and, more often than not, freaked-out colleagues. Going essentially blind into the likes of Under The Shadow and Hereditary is a truly exhilarating experience and then trudging home through the ice, snow and darkness with all that mad, scary imagery floating around in your mind – there's nothing better.
Jonathan Dana, producer (Oscar shortlisted Hallelujah: Leonard Cohen, A Journey, A Song)
I've taken a lot of talent to Sundance over the decades but the most unique was the legendary Ken Kesey, author of 'One Flew Over The Cuckoo's Nest' and the bridge between the Beatniks and the Hippies as told in Chuck Workman's terrific doc The Source in 1999. Kesey was as irascible as advertised, but was the most fun ever to walk the town with. Everyone wanted their picture taken with him after their eyes popped out when they found out who he was, and Kesey was in his element when he discovered the young filmmakers showing their films on their laptops as they marched up and down Main St. But the highlight was Kesey playing his Peruvian flute during every Q&A for the film. The crowd went wild! At the end of the week he gave me a button saying I was 'On the Bus', one of my prized possessions to this day.
Peter Spears, producer (Drift, Sundance 2023; Call Me By Your Name, Sundance 2017)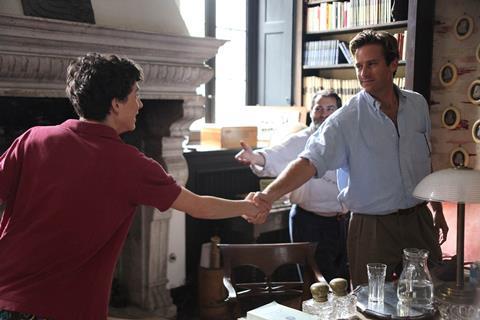 When Call Me By Your Name premiered at Sundance it was the night of one of the worst blizzards in festival history. It was the first time seeing our movie with an audience and I was sure Eccles would be empty because of the treacherous weather, but the theatre was full and buzzing, and once the movie began I could feel it casting a spell, as we were all transported to an idyllic Italian summer for the next two hours. It was after midnight when the film ended and everyone had to brave the elements to get home, so it was hard to know for sure how the movie had played. As we trudged through the drifts, I barely noticed the snow, both because I could still feel the Italian sun and because my phone had died during the screening and I was desperate to find someplace to charge it so I could read any early online reactions. When I finally got back to my charger, my phone started to blow up with reviews and texts. I think there may have been a few tears of relief to know that all the hard work of the past 10 years had warmed the hearts of so many festival-goers on a snowy night in Park City.
Trazy Droz Tragos, director-producer (Plan C, Sundance 2023; Rich Hill, Sundance 2014)
My favorite moment of sharing my own film with an audience was being rushed to a screening after Rich Hill won the Grand Jury Prize in 2014 (Tracy Chapman was on the jury – 'Talkin' Bout A Revolution' is one of my favourite songs of all time – and Tracy handed us the friggin' award!). Folks had purchased tickets for award-winner screenings. I still remember the energy of the audience's anticipation. Having purchased tickets to a movie they didn't know anything about, the reveal that it was Rich Hill was so electric and celebratory and it still brings a big smile to my face. It was such a long way from sitting across from my cousin, Andrew Droz Palermo, in 2011 with the infancy of an idea to make a film about our family hometown. We could never have imagined where we'd be three years later.
Lindsay Landzillotta, founder and co-head of The 51 Fund (Shayda, Sundance 2023)
My first Sundance was 2009 and my last was 2020. Some of my favourite memories of Sundance are of the people. The big screen with a welcoming audience is like coming home for a filmmaker. Also one of my favorite lifetime memories is my mom walking towards me after a screening with such pride. Sundance sets the stage for this to happen – I felt that last night for Noora [Niasari, director of Shayda]. There's nothing like the shared audience experience.
Maximilien Van Aertryck, director (What A Fantastic Machine, Sundance 2023; Ten Meter Tower, Sundance 2017)
The first time I came to Sundance I was impressed by how dedicated and responsive the audience was. At a screening I sat next to a mother and daughter from Texas who came all the way to see films, and "ask questions to the filmmakers"! This cinema audience culture is simply amazing.
Kathleen McInnis, producer/strategic publicist
So many memories come to mind from the past 32 Sundances —falling on my ass on Main Street and sliding nearly ten metres before I could stop, the festival infrastructure meltdown in the mid-90s, the arrival of celebrity and those who follow them. But my favourite might be seeing Max Makowski, director of The Pigeon Egg Strategy (Sundance 1998) elevated to rock star status after the first screening of his film.
Christan Vesper, CEO global drama at Fremantle; former Sundance TV drama head
In 2004 I was quite young in the business. I had that thing where you don't know everyone, you feel you should be doing so much. I didn't have anything to do, and felt guilty about it. Someone recommended that I go see Tarnation, Jonathan Caouette's documentary. It was playing at The Egyptian, and the best part about working for Sundance was I always had an express pass. It was late at night, I had no idea what it was about; and it was a life-changing documentary. That to me was the essence of Sundance – that random happening upon a life-changing way of seeing art.
JJ Caruth, president of domestic marketing and distribution, The Avenue
I remember sitting in the Eccles Theatre for the first screening of Little Miss Sunshine and as the film played, the atmosphere in the auditorium was electric. We all knew the film was going to be a hit! Before the credits rolled, so many of us were rushing for the exits to get on our phones and begin the bidding process. Sundance at its best!