EXCLUSIVE: Near 20-film haul includes God's Pocket, Bill, Pound of Flesh, Backtrack, Testament of Youth, The Guest.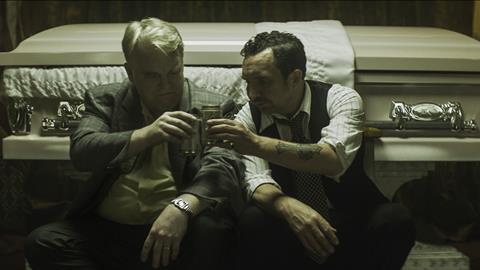 Dubai-based distributor Front Row Filmed Entertainment did brisk business at the European Film Market (EFM) in Berlin last week, locking in deals on a number of buzzed-about market titles.
Among the company's near-20 film acquisition haul for Middle East, North Africa and Iran were Bankside's Backtrack, starring Adrien Brody and Sam Neil; Automatic Entertainment's Jean Claude Van Damme action film Pound of Flesh; CMG duo Where the Devil Rides, starring Jennifer Carpenter and Rufus Sewell; and animation comedy Sly Cooper 3D, from TMNT director Kevin Munroe.
Front Row nabbed comedy A Birder's Guide to Everything, starring Ben Kingsley and Kodi Smit-McPhee, from Screen Media Venture; Catherine Keener drama War Story from Visit Films; UK comedy Bill from Independent; and documentary Cocaine Cowboys: Reloaded from Magnolia Pictures.
Per Front Row and Gulf Film's output deal with Electric Pictures, the company will distribute John Slattery's Sundance drama God's Pocket, which stars and was produced by the late Philip Seymour Hoffman in one of the actor's last performances.
The outfit's first-look deal with London-based Protagonist Pictures saw Front Row pick up David Heyman drama Testament of Youth, set to star Alicia Vikander and Kit Harrington; Maggie's Plan, with Julianne Moore and Greta Gerwig; Childhood of a Leader, which has Robert Pattinson, Juliette Binoche and Tim Roth attached; and Jane Austen's Love & Friendship from director Whit Stillman.
The company's ongoing collaboration with HanWay secured Adam Wingard's Sundance thriller The Guest, starring Downton Abbey's Dan Stevens, while final negotiations are underway on other titles.
Output deals with Exclusive Media and Embankment Films mean that Front Row will release Black Mass, set to star Johnny Depp, and A Walk Among the Tombstones, starring Liam Neeson, as well as London-based Embankment's Galveston, The Dressmaker, Animal Farm and Boychoir.