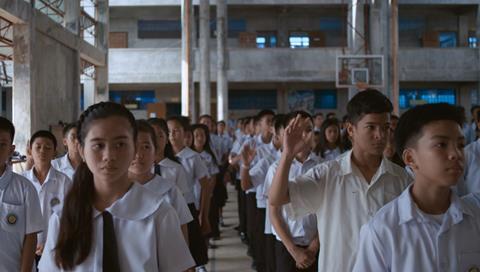 Full Circle Lab Philippines (FCL), a project development initiative launched by Matthieu Darras and the Film Development Council of the Philippines (FDCP), will start accepting projects from across Southeast Asia at its next edition.
FCL is also expanding into Filipino series, due to the growing demand for episodic content from VOD platforms, and animation IP stories in development, designed to encourage original narratives from Filipino animators.
Scheduled to take place April 15-22 in Manila, the Lab expects to support at least 20 projects – six features, four animation projects and three series in development, along with four features and three documentaries in post-production. The deadline for project submission is March 1.
Lab organisers said the changes are part of a three-year strategic vision to "internationalise the Filipino film industry" and "position the Philippines as a creative hub in the South-East Asian region".
The first edition of FCL, which took place in April 2019 and focused on projects from the Philippines, included projects such as Arden Rod Condez' John Denver Trending, which scooped six awards including best film at the Cinemalaya film festival, and Rae Red's Babae At Baril, which won best director in QCinema's Asian Next Wave competition. The Lab was also held in Indonesia in August 2019 in collaboration with LOCK, a programme led by producer Meiske Taurisia and curator Lisabona Rahman.
FDCP chairperson and CEO, Liza Diño, said: "We are glad to continue our partnership with Full Circle Lab following a very successful and productive session last year. Among the projects that underwent the Lab, two went on to local and international film festivals to critical acclaim, two are already in production, while the rest have gone on to more international labs and project markets to further develop their films and collaborate with partners.
"This goes on to show the fundamental importance of project development in Filipino films and its role to further elevating and upgrading the quality of projects."
At this year's FCL, mentors for the feature film projects include script consultants Ayman El Amir from Egypt and Matthieu Taponier from the US/France, Polish producer/distributor Izabela Igel and Italian producer Giovanni Pompili.
Documentary projects will be mentored by Romania's Alexander Nanau, while animation projects will be mentored by Jelena Popovic, producer at Canada's NFB's Animation Studio, and French scriptwriter Julien Lilti.
Series mentors include South African producer and development executive Mmabatho Kau and Israeli/German producer Naomi Levari. Projects in post-production will be mentored by French editor Benjamin Mirguet.