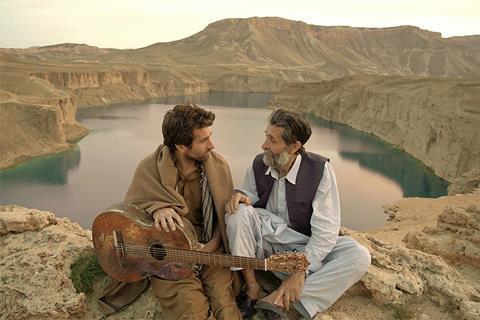 Eighty-seven countries have submitted films for this year's foreign language film Oscar, the Academy of Motion Pictures Arts and Sciences has revealed - a drop from the record 92 that submitted last year.
Countries submitting films in the category for the first time include Malawi - which has entered Shemu Joyah's The Road to Sunrise - and Niger, whose submission is Rahmatou Keïta's The Wedding Ring.
Submissions that had not previously been confirmed include Australian entry Jirga, from director Benjamin Gilmour, and New Zealand contender Yellow Is Forbidden, directed by Pietra Brettkelly.
Nominations for the 91st Academy Awards will be announced on January 22 and the awards ceremony is set for February 24.
Full list of 2018 foreign language film submissions:
Afghanistan - Rona Azim's Mother dir. Jamshid Mahmoudi
Algeria - Until the End Of Time Yasmine Chouikh
Argentina - El Ángel Luis Ortega
Armenia - Spitak Alexander Kott
Australia - Jirga Benjamin Gilmour
Austria - The Waldheim Waltz Ruth Beckermann
Bangladesh - No Bed Of Roses Mostofa Sarwar Farooki
Belarus - Crystal Swan Darya Zhuk
Belgium - Girl Lukas Dhont
Bolivia - The Goalkeeper Rodrigo Gory" Patiño
Bosnia and Herzegovina - Never Leave Me Aida Begić
Brazil - The Great Mystical Circus Carlos Diegues
Bulgaria - Omnipresent Ilian Djevelekov
Cambodia - Graves Without A Name Rithy Panh
Canada - Family Ties Sophie Dupuis
Chile - …And Suddenly the Dawn Silvio Caiozzi
China - Hidden Man Jiang Wen
Colombia - Birds Of Passage Cristina Gallego - Ciro Guerra
Costa Rica - Medea Alexandra Latishev
Croatia - The Eighth Commissioner Ivan Salaj
Czech Republic - Winter Flies Olmo Omerzu
Denmark - The Guilty Gustav Möller
Dominican Republic - Cocote Nelson Carlo De Los Santos Arias
Ecuador - A Son Of Man Jamaicanoproblem
Egypt - Yomeddine A.B. Shawky
Estonia - Take It Or Leave It Liina Trishkina-Vanhatalo
Finland - Euthanizer Teemu Nikki
France - Memoir Of War Emmanuel Finkiel
Georgia - Namme Zaza Khalvashi
Germany - Never Look Away Florian Henckel von Donnersmarck
Greece - Polyxeni Dora Masklavanou
Hong Kong - Operation Red Sea Dante Lam
Hungary - Sunset László Nemes
Iceland - Woman At War Benedikt Erlingsson
India - Village Rockstars Rima Das
Indonesia - Marlina The Murderer In Four Acts Mouly Surya
Iran - No Date - No Signature Vahid Jalilvand
Iraq - The Journey Mohamed Jabarah Al-Daradji
Israel - The Cakemaker Ofir Raul Graizer
Italy - Dogman Matteo Garrone
Japan - Shoplifters Hirokazu Kore-eda
Kazakhstan - Ayka Sergey Dvortsevoy
Kenya - Supa Modo Likarion Wainaina
Kosovo - The Marriage Blerta Zeqiri
Latvia - To Be Continued Ivars Seleckis
Lebanon - Capernaum Nadine Labaki
Lithuania - Wonderful Losers: A Different World Arunas Matelis
Luxembourg - Gutland Govinda Van Maele
Macedonia - Secret Ingredient Gjorce Stavreski
Malawi - The Road To Sunrise Shemu Joyah
Mexico - ROMA Alfonso Cuarón
Montenegro - Iskra Gojko Berkuljan
Morocco - Burnout Nour-Eddine Lakhmari
Nepal - Panchayat Shivam Adhikari
Netherlands - The Resistance Banker Joram Lürsen
New Zealand - Yellow Is Forbidden Pietra Brettkelly
Niger - The Wedding Ring Rahmatou Keïta
Norway - What Will People Say Iram Haq
Pakistan - Cake Asim Abbasi
Palestine - Ghost Hunting Raed Andoni
Panama - Ruben Blades Is Not My Name Abner Benaim
Paraguay - The Heiresses Marcelo Martinessi
Peru - Eternity Oscar Catacora
Philippines - Signal Rock Chito S. Roño
Poland - Cold War Pawel Pawlikowski
Portugal - Pilgrimage João Botelho
Romania - I Do Not Care If We Go Down in History as Barbarians Radu Jude
Russia - Sobibor Konstantin Khabensky
Serbia - Offenders Dejan Zecevic
Singapore - Buffalo Boys Mike Wiluan
Slovakia - The Interpreter Martin Šulík
Slovenia - Ivan Janez Burger
South Africa - Sew the Winter to My Skin Jahmil X.T. Qubeka
South Korea - Burning Lee Chang-dong
Spain - Champions Javier Fesser
Sweden - Border Ali Abbasi
Switzerland - Eldorado Markus Imhoof
Taiwan - The Great Buddha+ Hsin-Yao Huang
Thailand - Malila The Farewell Flower Anucha Boonyawatana
Tunisia - Beauty and the Dogs Kaouther Ben Hania
Turkey - The Wild Pear Tree Nuri Bilge Ceylan
Ukraine - Donbass Sergei Loznitsa
United Kingdom - I Am Not a Witch Rungano Nyoni
Uruguay - Twelve-Year Night Álvaro Brechner
Venezuela - The Family Gustavo Rondón Córdova
Vietnam - The Tailor Buu Loc Tran - Kay Nguyen
Yemen - 10 Days before the Wedding Amr Gamal - director