Disney's Cinderella and Fox's Home prosper over the Easter weekend with minimal drops to reach $16.6m (£11.2m) and $22.5m (£15.14m), respectively.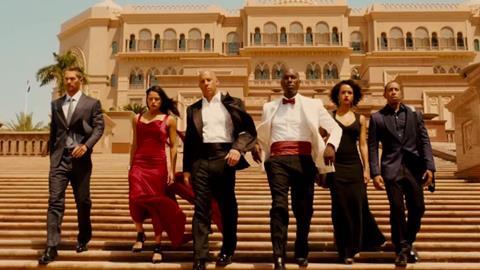 UNIVERSAL
Revving into top spot on debut, Universal's Fast & Furious 7 scored a tremendous $18.9m (£12.7m) bow from its 534 sites.
The debut marks the second biggest of the year, behind stablemate Fifty Shades of Grey, and also means Fast & Furious 7 recorded the biggest opening of the series by some distance, ahead of Fast & Furious 6's $12.9m (£8.7m).
Including Easter Monday [April 6], Fast & Furious 7 has already amassed $23.2m (£15.6m), meaning it has already overtaken the entire lifetime runs of The Fast and the Furious, 2 Fast 2 Furious, The Fast and the Furious: Tokyo Drift and Fast & Furious.
Fast & Furious 6's record of being the highest grossing outing of the series to date with $37.6m (£25.3m) won't be standing for much longer.
Also for Universal, Seventh Son fell heavily in its second weekend to take just $114,000 (£76,532) for $1.2m (£819,216), while Fifty Shades of Grey has now reached $51.6m (£34.76m).
DISNEY
Last week's belle of the ball Cinderella fell a slim 23% with a second weekend of $4.4m (£2.96m) as it dropped to second.
Disney's live action remake is now up to $16.6m (£11.2m) after 11 days in play and will hope to continue to enjoy strong returns over the school holidays as it attempts to track down Oz the Great and Powerful ($22.8m/£15.4m) and Maleficent ($30.3m/£20.4m).
FOX
With a remarkable fall of just 9% in its third weekend, Home took a further $3.5m (£2.4m) as it charted third.
Including Monday, Fox's animation is up to a terrific $22.5m (£15.14m) and shows little sign of slowing down, putting it in a strong position to challenge the likes of Madagascar ($33.7m/£22.65m) and Shark Tale ($34.3m/£23.05m) in the coming weeks.
Also for Fox, The Second Best Exotic Marigold Hotel has grossed $22.4m (£15.09m) after taking $321,000 (£215,933) over the four-day weekend, while Kingsman: The Secret Service has now hit $24.3m (£16.33m).
PARAMOUNT
The SpongeBob Movie: Sponge Out of Water dropped 29% (excluding previews) on its way to a second weekend of $1.7m (£1.12m).
Including Monday, Paramount's sequel has now crossed the £5m mark and stands at $7.6m (£5.1m). It will shortly surpass The SpongeBob SquarePants Movie's $8.3m (£5.6m) UK result.
WARNER BROS
Get Hard enjoyed a sturdy second weekend in the UK, adding $1.3m (£842,000) for $5.2m (£3.5m) to date through Warner Bros.
The comedy has now comfortably outgrossed the year's other Kevin Hart outing, The Wedding Ringer.
Also for Warner Bros, Focus and Run All Night have now grossed $10.9m (£7.35m) and $3.2m (£2.14m), respectively.
EONE
Falling over 50% in its third weekend, eOne's The Divergent Series: Insurgent grossed a further $879,000 (£592,349) and has now taken $10.3m (£6.9m) as of Monday.
It has now overtaken its predecessor's $9.8m (£6.6m) result.
Also for eOne, The Water Diviner launched with a solid $774,000 (£521,063) from its 420 sites. Russell Crowe's directorial debut is up to $938,000 (£630,737) and will look to challenge Unbroken's $3.6m (£2.4m) tally.
The DUFF banked $165,000 (£110,685) from its 338 sites on its first day of previews yesterday, while Suite Francaise has taken $2.9m (£1.97m) after four weeks in play.
ICON FILM DISTRIBUTION
While We're Young recorded director Noah Baumbach's biggest ever UK opening with $634,000 (£427,151) from its 250 sites through Icon Film Distribution.
It's worth noting that the film also received the widest ever release for a Baumbach outing and with it up to $775,000 (£522,134) as of Monday, While We're Young will become his highest grossing film, currently Frances Ha's $1m (£703,000).
BFI
The BFI's re-release of Blade Runner: The Final Cut grossed a healthy $304,000 (£203,923) from its 97 sites across the four-day weekend, with most venues playing split shows and Odeon screening the film only on Sunday [April 5].
Overall, the film has taken $459,000 (£308,456) when its one-off preview screenings last December are included, and the result marks a strong continuation of the success of the 2001 re-release which became BFI Distribution's most successful release of all time.
CURZON FILM WORLD
Wild Tales followed up its potent bow with a second weekend of $164,000 (£110,491) from its 47 sites for $652,000 (£438,243) through Curzon Film World.
Also for Curzon Film World, Still Alice has now amassed $3.5m (£2.35m), while The Decent One took $140 (£94) from its one-site release on debut.
DOGWOOF
Following its superb opening last weekend, Dogwoof's Dior and I posted a $39,000 (£26,529) second weekend on its way to $259,000 (£173,919) to date.
The film will soon overtake Dreams of a Life's $266,000 (£179,125) as Dogwoof's third highest grossing film of all time at the UK box office.
KOCH MEDIA
Well-received New Zealand drama The Dark Horse posted a UK bow of $17,000 (£11,109) from its 17 sites through Koch Media.
UPCOMING RELEASES
This week sees saturation releases for Paramount's Hot Tub Time Machine 2 and Entertainment's Woman in Gold.
eOne's The Duff (released yesterday), Sony's Paul Blart: Mall Cop 2, Warner Bros' John Wick, Arrow Films' Good Kill and Munro Films' Cobain: Montage of Heck all receive wide releases.
A Cannes 2014 double bill of Curzon Film World's Force Majeure and eOne's Lost River are among the films receiving limited releases.