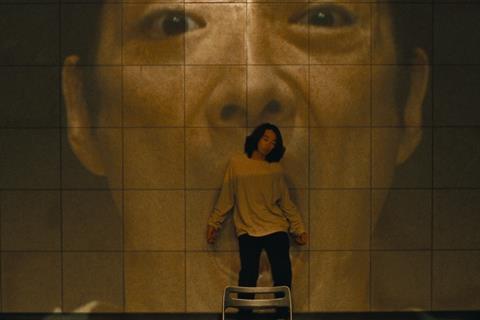 Gaga Corporation has acquired international sales rights excluding Japan on Toronto International Film Festival (TIFF) Platform entry Great Absence ahead of its European premiere in San Sebastian later this month.
Tatsuya Fuji (In The Realm Of The Senses, Ryuzo And The Seven Henchmen) and dance artist Mirai Moriyama (Shadow Of Fire, Inu-oh) star in the recent TIFF world premiere, which marks director Kei Chika-ura's second feature after Complicity premiered at 2018 TIFF.
Great Absence is inspired by Chika-ura's own experiences and centres on Takashi, a man who has been estranged from his father Yohji for 20 years and returns home with his wife after receiving a call from the police telling him his father's second wife Naomi is missing and Yohji himself is in the grip of dementia.
Takashi sets out to find the truth about the life of his father, who left when Takashi was a boy. Fuji and Moriyama play the father and son and the cast includes Hideko Hara (Shall We Dance?) as Naomi, and Yoko Maki (Like Father Like Son) as Takashi's wife.
Gaga will handle sales on all of international including the US but excluding Japan, where the filmmakers have not yet set distribution.
Chika-ura and Keita Kumano co-wrote Great Absence and Chika-ura and Miho Horiike served as producers. The production was supported by Kodak Japan and shot on 35mm film by renowned cinematographer Yutaka Yamazaki (After The Storm). The March 2022 shoot started with a single day in Tokyo before production moved to Kitakyushu in Western Japan and finished with five days in Kumamoto.
Gaga Corporation's member of the board and senior operating officer of content business division, Satomi Odake, said, "I was stunned by Director Chika-ura's elaborate storytelling and ability to depict people's emotions in this film. As the film received passionate reaction in Toronto, I strongly believe that it has the film will reach a global audience. We are very honoured to work with the filmmaker, and bring a new talent out of Japan to the world."
"For Great Absence, I wanted a sales company with a strong history in the international film scene, a profound grasp of the art of cinema, and, most importantly, a genuine love for this film," said Chika-ura. "Gaga Corporation has emerged as the perfect match; I'm truly excited about this newfound partnership."
Chika-ura continued: "At its core, the film captures a fortuitous reunion between a father and son. Through their story, I craft a narrative around time and memory, touching on their restoration and creation, enriched with a touch of mystery. In tandem with this central story, I strive to delve into the multifaceted nature of love and examine the role of women in a traditionally male-dominated Japanese society, bringing these themes into contemporary relevance."
San Sebastián Film Festival runs September 22-30.