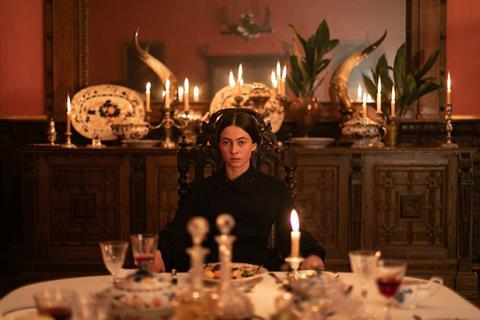 The Galway Film Fleadh has lined up a number of world premieres of Irish films for this year's festival, which runs from July 11-16, including Lisa Mulcahy's Lies We Tell, George Kane's Apocalypse Clown and The Martini Shot, starring Matthew Modine, John Cleese and Derek Jacobi.
Lies We Tell is the story of an heiress who is forced to embrace her family's dark legacy, starring Agnes O'Casey, David Wilmot, Holly Sturton and Chris Walley. Produced by Blue Ink Films and backed by Screen Ireland, with Embankment handling sales, the drama has been acquired for release in Ireland by BreakOut pictures.
Mulcahy's credits include children's film The Legend Of Longwood, as well as TV dramas such as Blood, Ridley Road and Years And Years.
Kane's Apocalypse Clown is a comedy starring David Earl, Natalie Palamides and Tadhg Murphy and centres on a troupe of failed clowns who take one last shot at their career dreams as Ireland is plunged into chaos and anarchy.
Apocalypse Clown is produced by Morgan Bushe and James Dean for Fastnet Films (Black47) as a co-production with Namesake Films and Cloé Garbay and Beata Saboova of uMedia.
Wildcard Distribution will be working with Vertigo Releasing on the film's theatrical release in Ireland later this year.
The film is Kane's second feature following Discoverdale in 2013 which won the best international film festival at Galway.
Galway will also host the world premiere of Stephen Wallis' The Martini Shot ./Modine stars as an ailing movie director determined to complete what he believes will be his final film. The feature is produced by Baby Jane Productions in co-production with Double Dutch International, Indie Magic Studios, Magic Door Films, North Film Co, Princess Gates Entertainment and Quick Capital Inc.
Following its debut at Berlin, Galway will host the Irish premiere of Enzo d'Alò's animated feature A Greyhound Of A Girl, an adaptation of roddy Doyle's novel and tells of a young girl with ambitions to become a chef.
Other Irish premieres include Mutt, the tale of a trans boy in New York City from director Vuk Lungulov-Klotz, and I Like Movies, Chandler Levack's directorial debut about a teenage cinephile.
Galway Film Fleadh director of programming Maeve McGrath said: "This has been a wonderful year for watching films while programming for the Fleadh. The film programme has films from 39 countries featuring world and Irish premieres.
"With the 35th edition of the festival in July, we are keen to look back at films that have shaped the Galway Film Fleadh over the years while also focusing on the themes that current filmmakers are shaping into stories for the screen."
The full Galway Film Fleadh line up will be announced later this month.