St Petersburg's EFP showcase will features eight titles this year.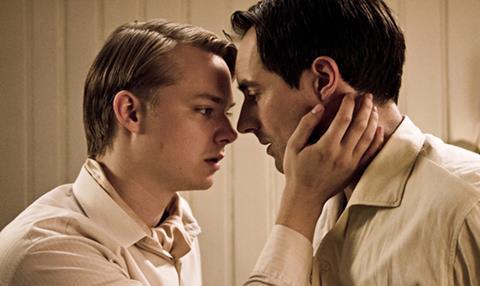 The Swiss gay docu-drama The Circle is among eight European films being shown as part of European Film Promotion's (EFP) third edition of its Westwind showcase in St Petersburg, October 21-25.
The line-up includes: the Spanish comedy Living Is Easy With Eyes Closed, which will be accompanied in person by its director David Trueba; Tom Collins' Irish drama The Gift, attended by actors Dara Devaney and Paul Griffin; Montenegrin writer-director Nikola Vukčević's revenge thriller/melodrama The Kids From Marx and Engels Street; Finnish filmmaker Pirjo Honkasalo's dreamlike odyssey Concrete Night; and German feature debutant Sebastian Ko's We Monsters which had its North American premiere in the Discovery sidebar in Toronto this month.
The other films programmed to screen in the Hotel Angleterre cinema are Pol Cruchten's drama Never Die Young and Daniel Dencik's historical drama Gold Coast as well as an avant-premiere presentation of Paolo Sorrentino's Youth.
An innovation for this edition will see the showcase in St Petersburg being supplemented by EFP's first VoD festival, with 26 European Oscar submissions being shown on Russia's most popular online platform IVI.ru; including such titles as Amour, Pina, White God, The Gambler and A Royal Affair.
The two-track approach has been adopted by EFP in reaction to the present unstable situation for European films in the Russian distribution market.
Speaking exclusively to ScreenDaily, The Circle's producer Ivan Madeo said that "every single screening in Russia of The Circle as well as other films with LGBT subject matter is of great importance."
"It is really important for homosexuals, bisexuals, transgender but also for liberal-minded heterosexuals in Russia to be able to see films with a message of tolerance," he observed.
"Such films offer hope, such films show that it's worth organising and coming together to stand up for human rights."
The Circle was shown on two previous occasions in Russia – at the Side by Side Festival in St Petersburg last November and during the Moscow edition this April.
Next month, Madeo will be accompanying the film to the 5th International Crime and Punishment Film Festival in Istanbul and then serving as a jury member in the Sunny Bunny section of Kiev's Molodist Film Festival where The Circle was also be shown.