The UK industry has something to celebrate about women in film - at least compared to more dismal stats in the US.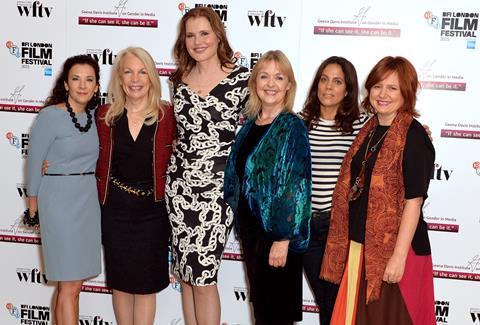 Across 11 top territories in the global film industry, women make up an average of 7% of directors, 19.7% of writers and 22% of producers.
But in UK independent film, women number 27.3% of directors, while in the US last year, only two women directed films in the top 100.
Among writers, the UK has 58.8% female screenwriters, compared to 11.8% in the US.
In UK independent films, 37.9% of characters seen on screen are female, but that drops to 23.6% when the UK collaborates with the US.
Those were some of the stats presented by Madeline Di Nonno, CEO of the Geena Davis Institute on Gender In Media as part of the Institute's Symposium at BFI Southbank yesterday (Oct 8), presented with the BFI and WFTV.
The Institute's recent research examined 11 of the world's largest film territories in terms of theatrical box office (Australia, Brazil, China, France, Germany, India, Japan, South Korea, Russia, the UK and US), looking at films released from 2010-2013. Click here for the Institute's full report.
Other disturbing statistics looked at the emphasis on physical appearance and sexuality for female characters.
Sexy attire was seen on 24.8% of female characters, nudity 24.2%, and thinness 38.5% vs 15.7%.
"Female characters cannot escape the emphasis on physical appearance," said Di Nonno, an industry veteran of On The Scene, Nielsen EDI, Echo Bridge and Universal.
"Female teens are just as likely to be sexualized as adult females, and just as likely to be shown in some nudity."
Characters with jobs
More female characters also need to be shown as having jobs as well – of 3,306 characters surveyed, the workforce was shown as being 22% female and 77.5% male.
The ratio was even worse in science and technology careers (only 11.6% female).
And the results were laughable in political representation – in 6,000 characters, there was only "one human female depicted as a strong political force," de Nonno said.
"Filmmakers make more than movies, they make choices," added De Nonno. "They could be for powerful female roles. The choice could be more female equality."
Addressing the executives and creatives in the audience, she offered a number of suggestions for immediate ways to make changes:
hiring more women in front of and behind the camera,
having a more equal number of female characters in scripts, and
when working on crowd scenes, write in the script, "a crowd gathers, which is half female".
As Davis said in her closing remarks, pushing for female representation shouldn't feel like a chore. "I want reaching parity in film to seem fun and easy and creative and fast…
"Give female characters more to say, more to do. Give them more aspirations…and more clothes!
"Don't listen when people say it's all been fixed. Look to the numbers and make the sweeping changes happen. And make it happen now."
UK progress
Amanda Nevill, the BFI's first female chief executive, noted "right down in the DNA at the BFI, we are about diversity".
"We have a saying that talent is everywhere but opportunity isn't. We want to seek out that talent no matter where they are," she added.
Inspired by Suffragette's 'deeds not words' edict, Nevill said she wanted the UK film industry to "move from the rhetoric and the talk to actually doing things".
The BFI has made a start with it's 'three-ticks' system, which unlocks its funding only if certain diversity requirements are met on screen as well as off.
"It is a carefully thought-out commitment to force change across the industry," Nevill said, adding that it had "galvanized other organisations".
"We've had the whole year piloting it, making it stringent and harder so people can't wiggle out of it."
She said similar measures would now be "introduced across the whole organization" of the BFI.
Nevill said she was pleasantly surprised by the industry reaction. "The industry was waiting for a way to make it easier to do this, we didn't hit massive opposition."
She added: "We don't want to depress great creativity. We didn't want to creative impossible obstacles to jump over" but that that these mechanisms were there "to make sure that women from all backgrounds can find a way into the industry."
Strong female leads
Carol producer Elizabeth Karlsen pointed out that three films centred on strong female characters were having LFF galas – Brooklyn, Suffragette and Carol.
Karlsen added: "It can't be a coincidence that all three bear the logo of the BFI as a financier. The BFI has introduced a mechanism to deal with exclusion by race and gender."
Film4 director David Kosse, the Symposium's only male panelist, said he was "proud of what we're doing at Film4 right now….working with a huge host of female directors, writers and producers."
That includes films like LFF opening night selection Suffragette by Sarah Gavron, Andrea Arnold's American Honey now in post, and new projects with the likes of Clio Barnard.
"We've got to get those voices out there…on a daily basis we're very engaged in that," he said.
Kosse added that in his past career at Universal, he had understood the commercial power of female voices, saying that something like Nancy Meyers' The Holiday "would connect with an audience on a global level…it's understanding the market for that audience."
On a personal note, the Film4 boss said having three daughters had helped him to think about female representation on screen in a new way.
"It's important to encourage men who are in a position of power to externalize," he added. "Men [need] to recognize having more women's voices and stories makes life richer."
Channel 4 has a diversity policy but Kosse said the approach is somewhat less regimented at Film4.
"At the point when we're greenlighting a film, we sit down with producers and say, 'How are you increasing diverse voices in front of and behind the camera? We're in the business of commissioning those kinds of projects." But he noted "we don't have a percentage number we're trying to hit."
Speaking from the floor, Swedish Film Institute CEO Anna Serner got a cheer when she spoke about how the SFI's funding had reached gender parity.
"It can be done," said Serner. "It can be done if you decide it. We are the public funders with the greenlight."
The business side of film should also be looking at the bottom line. Karlsen said it was important to remember "the economic value of these kinds of stories, you can't rule out the economics of it".
"Thelma & Louise was a massive hit. We keep stalling and hopefully now we won't stall, we're on a roll," added Karlsen.
The power of education
The BFI's Nevill said that encouraging STEM (science, technology, engineering, and mathematics) careers for young women should actually be STEAM to also encourage the arts.
"We need the British education system to embrace the arts in a way they are not doing as the moment," said Nevill.
"Arts are not even seen as an equal to sports. We have an economy where creative industries are so lauded, we know it's super influential, but in our education system we are doing nothing to make sure it's embedded."
Producer Karlsen, who is also chair of WFTV, spoke very personally about how seeing Douglas Sirk's Imitation of Life at age 11 had inspired her.
"I was mesmerized by the sheer force of this movie," she said. "It was women struggling with motherhood, careers, racial identity…I saw women were complex characters at the centre of their own story."
Her latest production, Todd Haynes' Carol, is a 1950s-set female centric story adapted from a book by a female author (Patricia Highsmith) whose work was seen as risky for its day.
Karlsen said: "The history of women is a history of silence. It's a responsibility of us all, not just women, but men and women, to uncover that silence for future generations. To make sure these stories are told. And that we create a history for future generations to narrate.
"We all have a responsibility to continue to pave the way that has been paved by the trailblazers."
Authentic voices
Gone Too Far director Destiny Ekaragha, only the third woman of African descent to direct a feature film in Britain, said that when she was making shorts, she didn't find huge barriers to entry.
But when she was pitching her feature, "that's when biggest block came".
"The moment it was big money, now it was serious, and [people said], 'Oh my God, a predominantly black cast!' People said that's risky, that's a risk."
Ekaragha said she got through it by staying true to herself and the project. "We kept our integrity, when people wanted us to change it."
She lauded the BFI Film Fund team – Ben Roberts, Lizzie Francke and late Chris Collins – for believing in and backing the project.
Abi Morgan, writer of Suffragette, took to the stage to pledge a renewed emphasis on female empowerment in her own work.
"If I am thought of as a 'greenlight giant,' I should test that by being more risky," said the award-winning writer of The Iron Lady, Shame and TV series The Hour.
"One of the things I realize more and more is that as I get closer to the people of power, the commissioners and financiers, I can pitch ideas.
"One of the things I am increasingly trying to pitch is the ideas I couldn't get made five years ago.
"The next four or five years I'm going to concentrate on films and TV that focus on women."
Indian-Canadian director Deepa Mehta said that throughout her career "all of my film have been women-centric." But she wanted to try something different with her new film, Beeba Boys.
"I decided that I wanted to make film films about men, from a female gaze, could I make a gangster film, would it be different because I'm a woman," Mehta said.
"I've been getting such shit, but it's been fun… For me it was like, 'Why the fuck not? Why can't I do a gangster film?'"
Laurie MacDonald, the former DreamWorks exec who recently produced documentary He Named Me Malala, confessed that she had been "a token hire" when she first started in Hollywood.
And she had to fake her confidence at first. "Being the token woman, and being able to witness the incompetence of the powerful men I worked for, I did learn early on just to pretend the confidence if you don't have it yet."
But she obviously found her own voice and encouraged the women in the room to stay true to their voices.
"Whatever you're doing, stay to be a category of one. Don't worry about 'How do I fit in?' … All of our power as women or men is in presenting our authentic selves.
"In film it's so important to base that on passion and commitment."