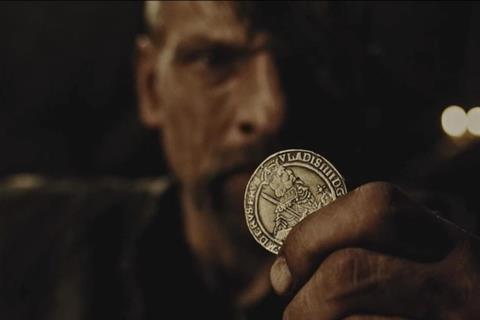 Ukraine's FILM.UA Distribution has sold Myroslav Latyk's werewolf thriller Maksym Osa to Germany's Alamode, following a delay in production due to the ongoing war.
The recently completed feature was held up as lead actor Vasiliy Kukharskiy stepped away from the production to enter the conflict. "The main actor totally changed and we couldn't create a poster with him as his face changed because of the war," said Evgeniy Drachov, head of production and sales at leading Ukrainian outfit FILM.UA Distribution. "In the end, we did some cuts and were able to release the film."
The company has also begun pre-sales on Ukrainian war drama Bucha, which tells the story of a Kazakh refugee who evacuated civilians from the eponymous town after it was invaded by Russian soldiers. Directed by Stanislav Tiunov and based on a true story, the cast is led by Vyacheslav Dovzhenko.
Production is underway on the film, which has been privately financed and is produced by Oleksandr Shchur and Serhii Demydov. Delivery is expected at the end of 2023 and Drachov has pledged that Ukrainian box office takings will be donated to charity and to help reconstruction of the country.
"Of course, it is a commercial movie and it is not a proper time to commercialise such topics but we want to get some additional funds to help for the recovery [of Ukraine]," Drachov said of the motivation behind the upcoming feature, of which FILM.UA is showing a promo at the EFM.
Drachov has also revealed the toll the war has been taking on other Ukrainian film productions.
"Projects we started in 2021 or 2022 we cannot finish because the main actors or the director are in the war and we cannot finish without them," he said. "We are just waiting."
One production that has been affected is Vasyl Moskalenko's horror film The Chernobyl Fallout. "The director and the producer are taking part in the war," adds Drachov.