Universal's The Secret Life Of Pets becomes the biggest animation of 2016 to date.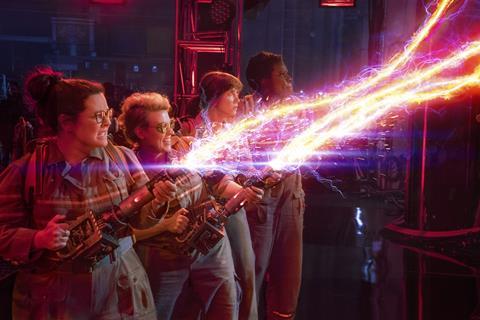 UK TOP FIVE
| Ranking | Film/Distributor | Weekend gross | Running total |
| --- | --- | --- | --- |
| 1 | Ghostbusters (Sony) | $5.82m (£4.4m) | $5.82m (£4.4m) |
| 2 | Ice Age: Collision Course (Fox) | $5m (£3.78m) | $5m (£3.78m) |
| 3 | The Secret Life Of Pets (Universal) | $2.71m (£2.05m) | $34m (£25.74m) |
| 4 | The Legend Of Tarzan (WB) | $1.94m (£1.47m) | $8.8m (£6.65m) |
| 5 | Absolutely Fabulous: The Movie (Fox) | $1.59m (£1.2m) | $17.43m (£13.18m) |
(Note - Dollar conversions are based on today's rates)
SONY
UK audiences ain't afraid of no all-female reboot. Doing what it couldn't in North America, Ghostbusters has topped the UK box office on debut.
Sony's much-talked about reboot scored a strong $5.82m (£4.4m) bow from its 581 sites, including $2.28m (£1.72m) in previews. Based on Fri-Sun, its $3.55m (£2.68m) tally would have also seen it top the chart.
It marks director Paul Feig's best-ever UK opening, outgrossing Bridesmaids' $4.68m (£3.54m) from 485 sites, including $1.36m (£1.03m) in previews. However, Ghostbusters is unlikely to match that film's final $30.5m (£23.02m) result.
Ghostbusters' second weekend will give an indication as to whether it'll play like a sequel and be a fast-burner, or if it could enjoy a longer word-of-mouth propelled run.
Also for Sony, Maggie's Plan added $90,000 (£68,000) for $344,000 (£260,000) after ten days in play.
FOX
Though it charted second, Ice Age: Collision Course disappointed on its official nationwide opening.
Fox's animated sequel rolled to a non-final $5m (£3.78m) from its 571 sites, including $3.36m (£2.54m) from nationwide previews and its Scotland/Ireland opening on July 1. Its Fri-Sun tally of $1.65m (£1.24m) would have seen it chart fourth.
It's a sharp decline from the $13.3m (£10.09m) first nationwide weekend for Ice Age: Continental Drift in 2012, which included $7m (£5.27m) in previews. Collision Course only opened ahead of Ice Age's $4m (£3.03m) debut from 423 sites.
In terms of Fri-Sun tallies though, its the lowest of the series, behind Ice Age's $2.51m (£1.9m). Collision Course will hope to rebound as schools go on holiday nationwide, otherwise there's a real danger it won't match Ice Age's $20m (£15.09m) result.
Also for Fox, Absolutely Fabulous: The Movie rounded off this week's top five with a non-final $1.59m (£1.2m) third weekend for an excellent $17.43m (£13.18m) to date.
It's continuing to be a potent draw midweek, with more than $2.91m (£2.2m) taken over its second Mon-Thurs period [July 11-14], leading the market on each day.
Independence Day: Resurgence now stands at $15.48m (£11.7m) following a $460,000 (£347,438) fourth weekend.
UNIVERSAL
The Secret Life Of Pets may have dropped to third, but it remained the leading animation over Fri-Sun.
Universal's hit animation hopped to a further $2.71m (£2.05m) for a terrific $34m (£25.74m) after four weeks in play. As expected, it is now the highest-grossing animation of the year, topping Zootropolis.
Finding Dory swims into UK cinemas on July 29 which will impact Life Of Pets, but the latter could already be on the cusp of £30m by then given that schools are soon to break up.
Also for Universal, Central Intelligence shot to a $1.01m (£766,380) third weekend for $9.59m (£7.25m) to date.
WARNER BROS
The Legend Of Tarzan fell almost 50% (excluding previews) as it swung to a $1.94m (£1.47m) second weekend.
Warner Bros' reboot is up to $8.8m (£6.65m) after ten days in play and if it posts a sturdy hold this coming weekend, it could stand an outside chance of hitting £10m.
Also for Warner Bros, The Conjuring 2 has now surpassed its predecessor following a $278,000 (£210,000) fifth weekend for $14.2m (£10.7m), while Me Before You stands at $12.5m (£9.45m).
Keanu struggled on its UK bow, grossing only $18,000 (£13,700) from its 50 sites.
LIONSGATE
Secret Cinema's big summer production of Lionsgate's Dirty Dancing had the time of its life with a stonking $1.25m (£946,086) taking over its first three days.
Last year, the company's Star Wars production of The Empire Strikes Back started with $402,000 (£304,115) from its opening four days, while in 2014, their summer production of Back To The Future grossed $953,000 (£720,479) across its first weekend.
In a limited run, Dirty Dancing holds its final dates this coming weekend.
EONE
Falling 45% (excluding previews), eOne's Now You See Me 2 conjured up $1.16m (£875,296) for $6.41m (£4.84m) after 14 days in play.
As expected after the relatively soft opening, the sequel is unlikely to match Now You See Me's $13.9m (£10.5m) result.
ICON FILM DISTRIBUTION
The Neon Demon couldn't bounce back from its soft opening as it fell around 60% with only $66,000 (£49,965) gathered from its 103 sites for $372,000 (£281,144) to date through Icon Film Distribution.
METRODOME
Mark Duggan documentary The Hard Stop enjoyed a $31,000 (£23,276) UK debut, including previews, from its 21 sites through Metrodome.
CURZON ARTIFICIAL EYE
Including $1,700 (£1,311) in previews, Curzon Artificial Eye's Summertime posted a UK opening of $19,000 (£14,032) from its 20 sites.
ARROW FILMS
Released in 17 sites on split shows through Arrow Films, Men And Chicken recorded a UK debut of $14,000 (£10,909), including $1,100 (£828) in previews.
VERTIGO FILMS
Turkish horror Baskin grossed $4,100 (£3,080) from its three sites on its UK bow, including $3,500 (£2,654) from three previews, through Vertigo Films.
UPCOMING RELEASES
This week sees saturation releases for eOne's The BFG and Paramount's Star Trek Beyond.
Studiocanal's Chevalier and Soda Pictures' Ming Of Harlem: Twenty One Storeys In The Air are among the films set to receive a limited release.