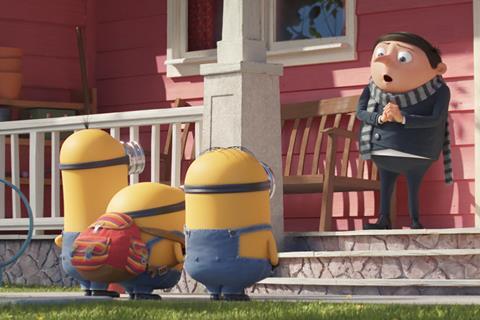 World box office July 22-24
| | | | | | | |
| --- | --- | --- | --- | --- | --- | --- |
| Rank | Film (distributor) | 3-day (world) | Cume (world) | 3-day (int'l) | Cume (int'l) | Territories |
| 1. | Minions: The Rise of Gru (Universal) | $59.8m | $640.3m | $42.1m | $342.4m | 80 |
| 2. | Thor: Love And Thunder (Disney) | $53.9m | $598.2m | $31.8m | $322m | 49 |
| 3. | Nope (Universal) | $44m | $44m | N/A | N/A | 1 |
| 4. | Top Gun: Maverick (Paramount) | $26.4m | $1,282.7m | $16.4m | $647.1m | 66 |
| 5. | Detectives vs. Sleuths (various) | $14.9m | $87.1m | $14.9m | $87.1m | 4 |
| 6. | Where The Crawdads Sing (Sony) | $14.4m | $42.4m | $4.1m | $4.1m | 4 |
| 7. | Elvis (Warner Bros) | $13m | $210.2m | $6.7m | $91.8m | 74 |
| 8. | Lighting Up The Stars (various) | $11.7m | $232.9m | $11.7m | $232.9m | 1 |
| 9. | The Black Phone (Universal) | $10.3m | $130.1m | $6.9m | $51.5m | 75 |
| 10. | Jurassic World: Dominion (Universal) | $9.9m | $920.6m | $7m | $555.1m | 86 |
Credit: Comscore, all figures estimated, click top right to expand
Minions: The Rise Of Gru' returns to global top spot
UPDATED: Now in its fourth weekend of play in most markets, Universal's Minions: The Rise Of Gru has returned to the top spot of the global box office – elbowing aside Thor: Love And Thunder after its two-week reign at the chart summit.
The start of the school holiday in many markets saw this fifth film in Illumination Entertainment's Despicable Me/Minions franchise drop just 25% overall across international territories. In North America, the fall was an estimated 34%.
Minions: The Rise Of Gru earned a confirmed $41.8m for international at the weekend, and $18m in North America, combining for $59.8m. Cumulative totals are respectively $342m and $298.2m, combining for $640.2m.
The film was boosted by its arrival in both South Korea ($6.3m in five days – the biggest animation opening of the pandemic era, and ahead of the first Minions' debut) and Taiwan ($1.7m).
Among holdover markets, UK/Ireland – where the summer holiday began for most schools last week – excelled with a confirmed 17% rise, delivering $3.7m, and taking the total to $33.7m. UK/Ireland has now overtaken Mexico ($32.4m) to become the top international territory on the film.
Argentina, where the school holiday began two weekends ago, has seen its second successive week-on-week rise – up another estimated 23% for the latest session. Cumulative total there is $15.8m, ahead of more populous neighbour Brazil on $15.2m.
The Rise Of Gru is now 55% of the way to matching the $1.16bn global total achieved by Minions in 2015, and has reached 62% of the $1.03bn tally for 2017's Despicable Me 3.
Also for Universal, Jurassic World Dominion added a confirmed $10.2m worldwide, pushing the total to $920.9m. Dominion is now the biggest film of 2022 in both Argentina and Mexico.
Universal/Blumhouse's The Black Phone added $10.3m, pushing the global total to $130.1m. The film was boosted by arrival in Australia ($1.5m) and Brazil ($1.3m including extensive previews). Mexico remains the top international market in terms of cumulative totals – way out in front with $14.4m.
'Where The Crawdads Sing' scores $4m in early international markets
UPDATED: Sony Pictures International has scored a confirmed $4.1m with Where The Crawdads Sing in its first three international markets: UK/Ireland, Australia and New Zealand. The adaptation of the Delia Owens bestseller grossed $2.1m including previews in Australia, ahead of UK/Ireland ($1.7m) and New Zealand ($297,000).
In North America, where this first film from Sony's 3000 Pictures label is in its second week of release, Crawdads fell around 40% for a weekend haul of $10.4m, and a 10-day total of $38.4m. Global total is $42.5m.
The staggered international rollout for Crawdads sees it land in France and Germany in mid-August, in Brazil and Mexico in early September, Spain in late September, and Italy and South Korea in October.
Also for Sony Pictures International, Spanish local hit Padre no hay más que uno 3 (Father There Is Only One 3) stayed top of the country's box office, with confirmed second-weekend takings of $1.4m. The 11-day total of $6.9m for the release of the Sony Pictures International Productions comedy makes the sequel the biggest local film of 2022 in the market.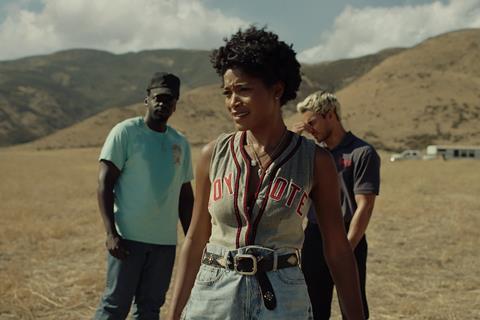 'Nope' delivers biggest debut for original screenplay since 'Us'
UPDATE: In North America, Universal's release of Jordan Peele's Nope has delivered the biggest box office debut for an original screenplay since the opening of Peele's own Us. Nope's confirmed $44.4m chart-topping debut is bigger than achieved by Quentin Tarantino's Once Upon A Time… In Hollywood ($41.1m). Us debuted with $71.1m in March 2019.
In 2017, Peele's Get Out grossed $176.2m in North America, $79.6m for international and $255.7m worldwide. Two years later, Us reached a very similar $175.1m in North America, $80.1m for international, and $255.2m worldwide.
Nope begins its international rollout week commencing August 8, including UK/Ireland on August 12.
'Thor: Love And Thunder' closes in on $600m worldwide
Disney/Marvel's Thor: Love And Thunder continued its box office slide with its third weekend of play – declining an estimated 49% in international holdover markets and 53% in North America. These burn rates are par for the course with Marvel titles.
Worldwide weekend box office was an estimated $53.9m – slipping to second place in the chart behind a buoyant Minions: The Rise Of Gru. Worldwide total is now nudging $600m – with $598.2m so far.
Despite not opening yet in China or Russia, Love And Thunder has surged past the $449m global total of the first Thor film (2011), and is closing in on the $645m total achieved by Thor: The Dark World (2013). This fourth Thor film still has some way to go to catch the $854m tally achieved in 2017 by Thor: Ragnarok.
'Top Gun: Maverick' rises up all-time chart
The last seven days saw Paramount and Skydance's Top Gun: Maverick rise three places – from 20th to 17th – in the all-time global box office chart. The Tom Cruise sequel has now reached $1.28bn, pushing past three Disney titles: Incredibles 2, Beauty and the Beast (live action) and Frozen. Next in its sights: 16th-placed Jurassic World: Fallen Kingdom ($1.31bn).
The latest weekend saw Top Gun: Maverick added another estimated $26.4m, placing it fourth in the worldwide weekend chart in its ninth week of release.
'Elvis' cracks $200m
UPDATE: Warner Bros' Elvis added another estimated $13m at the weekend, taking the global total through the $200m barrier, and to $212.7m, of which $94m comes from international markets. For international markets, the drop was a mere 18%, the same drop in Latin America where Baz Luhrmann's film is only in its second week of release.
In cumulative totals, English-speaking markets UK/Ireland ($22.5m) and Australia ($18.7m) are way out in front among the international territories with Elvis. Next-biggest markets France ($6.9m), Germany ($4.2m) and Japan ($4m) are far behind.