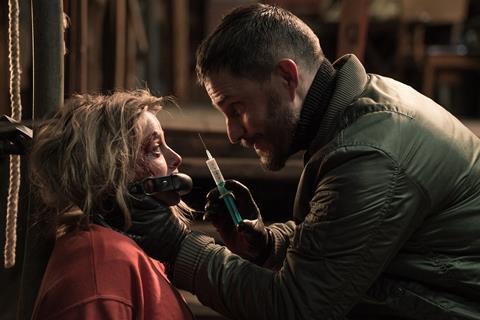 Munich-based sales outfit Global Screen has snapped up worldwide distribution rights to new thriller Kidnapping Stella and will start pre-sales on the title at this year's AFM (October 31-November 7).
Kidnapping Stella stars Max von der Groeben and Jella Haase (from runaway hit Suck Me Shakespeer) alongside Clemens Schick. Thomas Sieben is the director. The film will be released in Germany by Universum Film in 2019.
The film is produced by Henning Ferber Filmproduktions (Henning Ferber), in co-production with SevenPictures Film (Stefan Gärtner, Verena Schilling) with funding from Medienboard Berlin-Brandenburg, the German Federal Film Board and the German Federal Film Fund.
In the thriller, two masked men kidnap a young woman in broad daylight in the middle of a street. They bind and gag her and take her to an abandoned, soundproofed apartment. She is Stella (Jella Haase), the daughter of a millionaire. Her kidnappers, the coldly efficient Vic (Clemens Schick) and his younger accomplice Tom (Max von der Groeben), have worked out a detailed plan. But Stella is not going to play the perfect victim - she's not going to give up without a fight.
"Thomas Sieben succeeds in delivering an unusually powerful and gripping thriller with just a few elements - an exciting story, three strong actors and a claustrophobic main location," Alice Buquoy, Senior Sales and Acquisitions Manager at Global Screen, commented of the project.
Owned by Telepool, Global Screen GmbH has a catalogue of more than 15,000 titles, ranking among the largest world sales outfits in Europe.
Among Global Screen's current theatrical films are the 3D animated family entertainment movies Marnie's World, Bayala, Tabaluga and Ooops! The Adventure Continues…, the German box-office hit Crazy Heart and the action thriller, Don't.Get.Out!.