Boxing drama wins top prize; special mentions for The Gulls and Journey to Rome.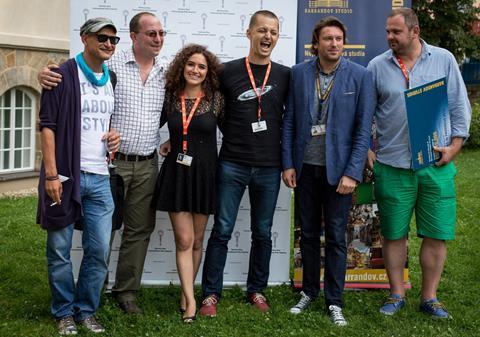 Goat (Koza), about a former Olympics boxer who has to get back in the ring for one more fight, has won the Works in Progress prize at the Karlovy Vary International Film Festival (KVIFF).
The award, which includes €10,000 in services from Barrandov Studios, was announced at a drinks event in Karlovy Vary.
A statement from the jury said: "The jury was impressed by the high quality of the projects in Works in Progress. We shortlisted three different projects, among them Journey to Rome and The Gulls.
"But the award goes to a project with very strong characters, a sad and funny visual style from a director able to incorporate light-weight touches into heavy-weight narrative with crystal-clear and convincing presentation. The winner of the tenth edition of Works in Progress is Koza (Goat)."
The jury comprised Mihai Chirilov, artistic director and co-founder of the Transylvania International Film Festival; Guillaume de Seille, who runs Paris-based Arizona Productions; and Niloufar Siassi, sales director at Fortissimo Films.
Goat is a co-production between the Slovak Republic's Endor Film and the Czech Republic's Sentimental Film.
The writer, director and co-producer is Ivan Ostrochovsky, who previously co-directed documentary Velvet Terrorists, which picked up prizes at KVIFF in 2013 and the Berlinale Forum in February.
Goat marks his fiction feature debut and it is currently in post-production with a release slated for January 2015.
The film centres on Romany boxer Peter Baláž (playing himself), whose career peaked in 1996 when he fought for Slovakia in the Altanta Olympics. Years after the event, he is seen living in poverty with his girlfriend Miska in a settlement on the outskirts of town.
Miska finds out that she is pregnant and while Goat wants a child, she refuses as they are in debt with no relief in sight. Intent on having an abortion, she leaves to move in with her parents. Goat decides to earn the money he needs by stepping back in the ring.
Speaking at the Works in Progress event in Karlovy Vary yesterday, Ostrochovsky talked about meeting his leading man and the origin of his name: "I met this boxer Goat. I thought it was because he's ugly and looks like a goat.
"But he told me over a drink that he had eight siblings so was sent to live with his grandmother. He was very small when he was born and needed milk so his grandmother gave him goat's milk and the nickname stayed with him."
Ostrochovsky and his Sentimental Film partner Marek Urban are producers along with Endor Films' Jiri Konecny.
Special mentions
The jury chose to give two of the 14 projects special mentions.
Journey To Rome (Cesta do Rima) is a co-production between the Czech Republic's Background Films and Poland's EasyBusyProductions.
The comedy is the directorial debut of Tomasz Mielnik and has a budget of €530,000. Shot on 35mm in Prague, the shoot finished in June and the film is currently in post-production, with a release set for summer 2015.
The story centres on Vasek, a shy man in his early 30s, who steals a painting from the National Gallery and makes a dash for Rome by train.
Hunted by antique shop owners and a police commissioner, he meets extraordinary characters along the way including a priest taxi driver who wants Vasek to confess in his cab; a truffle expert complete with little pig; and an older lady who notices a resemblance with the thief pictured in newspapers.
Mikulas Novotny, producer for Background Films, said: "This is not a typical comedy. It deals with very serious topics. We only chose this genre to help you stand watching serious topics."
Mielnik, who is finishing his directing studies at FAMU in Prague, previously made short Holka 180 in 2010.
EasyBusyProductions' Weronika Czolnowska is co-producer. The producers are hunting a festival to launch the film and are also seeking a world sales partner.
The Gulls (Chaiki) was praised by the jury for spotlighting a place rarely seen on film, Kalmykia, a small region of Russia on the shores of the Caspian Sea.
The film, which has a budget of €870,000, marks the directorial debut of Ella Manzheeva and is currently in post-production.
It is slated for release in March 2015 and producer Elena Glikman of Russian production company Telesto is looking for a colour correction partner, an international sales agent and film festivals.
"This film is about a fisherman's wife who wants to leave him but doesn't have the strength to do it," said director Manzheeva.
Glikman stated: "Russia's rich diversity of ethnic groups has unfortunately, rarely bene used as the subjects of cinema.
"The Gulls, whose characters have not forgotten their native Kalmyk language, will stimulate interest in the region and provide an opportunity to show the world the beauty of the boundless Kalmyk steppe and its people."