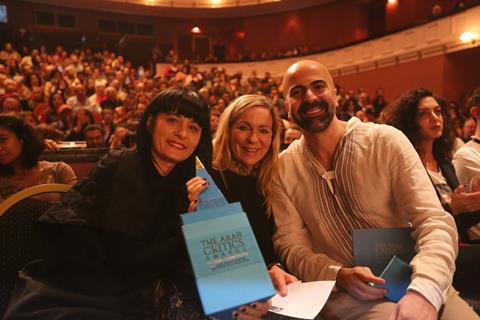 North Macedonian director Teona Strugar Mitevska's drama God Exists, Her Name is Petrunya has won the inaugural Arab Critics' Awards for European Films.
The prize was announced on Saturday evening at the Cairo International Film Festival.
The new awards are a joint initiative between European Film Promotion (EFP), the Arab Cinema Centre (ACC) and online platform Festival Scope. It involves 42 film critics from 13 Arab countries who screened 24 European features.
EFP managing director Sonja Heinen was in Cairo to present the award alongside ACC co-founder Alaa Karkouti.
The other two nominated films were Spanish filmmaker Salvador Simo's feature-length animation Buñuel In The Labyrinth Of The Turtles and Polish director Jan Komasa's drama Corpus Christi.
God Exists, Her Name is Petrunya is about a woman who challenges the patriarchy when she crashes a men-only ritual marking a religious holiday. It premiered at the Berlinale this year.
The film is sold internationally by Paris-based Pyramide International and is also one of the three finalists in the European Parliament's Lux Prize. The others are Mads Brügger's investigative documentary Cold Case Hammarskjold and Rodrigo Sorogoyan's political thriller The Realm.
The prize is voted on my MEPs and will be announced on Nov 27.
Producer Labina Mitevska, who is also the director's sister, attended the ceremony to receive the awards.
"Me and my sister have always believed that cinema can change the world. We've always tried to open topics and stories that no-one wants to hear about now," she said.
Mitevska also emphasized the importance of film critics in the filmmaking chain. "I'd like to thank the 42 film journalists who watched these 24 European films, most of them very hard films… there were no comedies," she said. "We always make our movies with the audience in mind but it's also important to have intelligent journalists… the more constructive reviews we get, the better our cinema will be"
The new prize is a spin-off of ACC's Critics' Awards for Arab Films, in which some 70 critics based in more than 30 countries vote on the best Arab film of the year. This year's winner, announced in Cannes, was Capernaum.