Bulgarian drama won the Golden Leopard as well as Best Actress for star Irena Ivanova.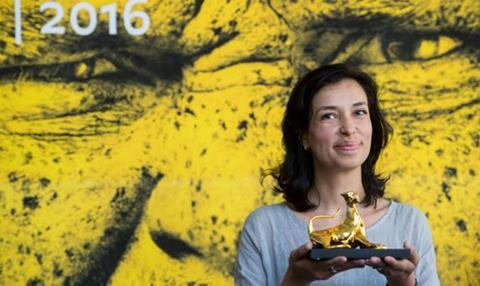 Bulgarian director Ralitza Petrova's debut feature Godless has won the top prize, the Golden Leopard, at the 69th Locarno Film Festival.
The drama also took the Best Actress award for Irena Ivanova's performance as a nurse looking after elderly patients with dementia in a remote Bulgarian town.
In addition, the production by KLAS Film's Rossitsa Valkanova with Denmark's Snowglobe and France's Alcatraz Films and Film Factory, received the Ecumenical Jury's Prize, which comes with a cash award of $20,500 (CHF20,000).
The screenplay for Godless - which is being handled internationally by Greek-based Heretic Outreach - had been supported by Torino FilmLab's FrameWork, Sarajevo's CineLink and the Women in Film Finishing Fund in Los Angeles.
"This prize was unusual among juries because it was a unanimous decision between all the members of our team," the International Competition's jury president, veteran Mexican director Arturo Ripstein observed on this year's Golden Leopard award.
There was a pronounced European focus to the other prizes handed out by the International Competition's jury, which also included film-makers Rafi Pitts, Wang Bing and American actress Kate Moran.
The Special Jury Prize was presented to Romania's Radu Jude for Scarred Hearts, inspired by Max Blecher's eponymous autobiographical novel, which was co-produced by Berlin-based Komplizen Film, the makers of Toni Erdmann.
Jude's film also picked up the International Federation of Film Societies' Don Quixote Prize.
The Leopard for Best Direction went to the Portuguese filmmaker Joao Pedro Rodrigues for his latest collaboration with screenwriter Joao Rui Guerra da Mata, O Ornitólogo, after they previously received a Jury Special Mention in Locarno in 2012 for The Last Time I Saw Macao.
Meanwhile, the Leopard for Best Actor was awarded to Polish veteran Andrzej Seweryn for his role as the father in Jan P. Matuszynski's feature debut The Last Family, which is being handled internationally by New Europe Film Sales.
The International Jury also gave a Special Mention to the directorial duo Tizza Covi and Rainer Frimmel for Mister Universo which attracted another four honours from independent juries at the festival: the International Film Critics' FIPRESCI Prize, the Europa Cinemas Label, a Second Prize from the Junior Jury, and a Special Mention by the Ecumenical Jury.
"One of the members [of the jury] said: 'It touched my heart', and we all agreed," Ripstein observed about Mister Universo.
Filmmakers of the Present
The Filmmakers of the Present sidebar's jury - presided over this year by veteran filmmaker Dario Argento, awarded its main award, the Premio Nescens, to Argentina's Eduardo Williams for his feature debut The Human Surge, which also received a Special Mention from the First Feature Award jury.
The Cine+ Special Jury Prize went to Yuri Ancarani's The Challenge while Japan's Mariko Tetsuya took home the Best Emerging Director prize for Destruction Babies which had its international premiere in Locarno.
First Feature and Audience Award
Argentinian cinema also triumphed in the First Feature competition with the top prize going to German-born Nele Wohlatz for The Future Perfect, which earned a Special Mention from the Cinema & Gioventù Jury.
Meanwhile, this year's Cannes Palme d'Or winner, Ken Loach's I, Daniel Blake, was voted by the audience attending the open-air presentation on Thursday evening as the most popular film in 2016's Piazza Grande programme and received the Prix du Public UBS.
This is not the first time Loach has received the Audience Award, having also been the audience's favourite with My Name Is Joe in 1998.
Semaine de la Critique
The strength of Polish documentary was again in evidence at this year's Semaine de la Critique sidebar of international documentaries with Anna Zemecka's Communion picking up the SRG SSR Award with a cash prize of $8,200 (CHF8,000).
In addition, Heidi Specogna's Swiss-German co-production Cahier Africain received the $2,500 (CHF2,000) Zonta Club Locarno Prize awarded to "a film which promotes a better justice and social ethics."
A full line-up of the official awards and prizes from the independent juries can be found at www.pardo.ch.
Looking back at Locarno's 69th year
In an initial review of this year's 69th edition, the festival's operation director Mario Trimbal reported that attendance was "in line" with previous editions. "Even some audacious choices and the greater security measures undertaken did not manage to dampen the general enthusiasm of the general festival audience, professional delegates and the media for the evening screenings," he said.
Carlo Chatrian, now in his fourth year as artistic director, noted that the 2016 edition had "gambled on a number of fronts. From a more adventurous programme on the Piazza to the competitions that gave pride of place to young filmmakers. The positive response, from both audiences and critics alike, has encouraged us to continue with this approach."
Festival president Marco Solari countered criticism regarding the absence of big stars coming to Locarno (local journalists asked why Matt Damon didn't turn up to support the Piazza Grande screening of Jason Bourne) by insisting that the films programmed at the festival were the real stars.
Nevertheless, there was an invigorating mix of old and new names to keep the photographers and autograph hunters busy with the likes of Bill Pullman, Harvey Keitel, Mario Adorf, Stefania Sandrelli, Roger Corman, past Golden Leopard winners Albert Serra and Milagros Mumenthaler, Thailand's Anocha Swichakornpong and Mozambiquan actress Melanie de Vales Rafael, and "the bad lieutenant" Abel Ferrara playing the blues in the La Rotonda's music venue one evening.
LOCARNO NEWS ROUND-UP
Swiss awards
As usual, the festival in Locarno was used as a backdrop for numerous gatherings of the Swiss industry on the shores of Lago di Maggiore including two award ceremonies dedicated to screenwriters and documentary filmmakers.
Producer Ivan Madeo of Zurich-based Contrast Film accepted this year's SSA Script Prize for Michael Krummenacher's Second World War-set screenplay Landesverräter.
Last year had seen another of Contrast Film's projects, Hot Spot by Student Oscar-winner Talkhon Hamzavi, receive the SSA Script Prize.
Krummenacher had been the initiator, artistic director and one of the directors of the omnibus film Heimatland which premiered at last year's Locarno Film Festival and was recently released in Germany by Arsenal Filmverleih.
Meanwhile, a jury headed by the Austrian director Ulrich Seidl announced the three finalists in the Migros supermarket chain's competition for Swiss documentary filmmakers .
The jury selected three film ideas on this year's subject of utopia - ¨The Only Thing We Have to Fear..Is Fear Itself¨ (Franklin D. Roosevelt, 1933) by Mirjam von Arx (ican films, Zurich), La Lutte Finale by Pierre-Yves Borgeaud (Momentum Production, Lausanne), and La Nouvelle Atlantide by Pauline Julier (Close Up Films, Geneva) - for development awards of $25,600 (CHF25,000) each.
The jury will then reconvene at the Solothurn Film Days in January to decide on which of the developed projects should receive production support of $410,000 (CHF400,000) from Migros' Kulturprozent sponsorship initiative and an additional $82,000 (CHF80,000) backing from Swiss public broadcaster SRG SSR.
Focus on Bhutanese cinema
The Society Switzerland-Bhutan (SSB) is to stage Switzerland's first film festival dedicated to Bhutanese cinema in Zurich next January. SSB president Marianne Frei announced the news at a reception held to celebrate the world premiere of Khyentse Norbu's Hema Hema: Sing Me A Song While I Wait.
Norbu's film was presented as one of the Open Doors Screenings and attended by producer Pawo Choyning Dorji and members of the cast as well as Hema Hema's executive producer Jeremy Thomas and Hanway Films' Head of Acquisitions Matthew Baker.